Role of Interleukin-33/ST2 Pathway in Hepatic Ischemia/Reperfusion Injury, The
Department of Surgery, Thomas E. Starzl Transplantation Institute, University of Pittsburgh, Pittsburgh, PA
Meeting: 2013 American Transplant Congress
Abstract number: D1574
Purpose We sought to determine the role IL-33 and its receptor ST2, a novel alarmin signaling in the IL-1 family, by which contributes to inflammatory and innate immune response following liver ischemia reperfusion (I/R) injury.
Methods Wild type (WT), IL-33-, and ST2-KO mice were subjected to a partial (70%) warm hepatic I/R model. Recombinant IL-33 (rIL-33) was administered in select groups and liver damage was assessed using liver enzyme. Hepatocytes (HCs) and liver sinusoidal endothelial cells (LSECs) were isolated and exposed to hypoxia or H2O2. Protein expressions of IL-33, ST2, and MAP kinases were determined by Western blot. The cytokine levels were assessed using real-time PCR or ELISA. Infiltration of innate immune cells such as natural killer (NK) cells, neutrophils, and inflammatory monocytes following liver I/R was evaluated by flow cytometry.
Results Liver tissue level of IL-33 and ST2 were elevated after I/R injury compared with sham operation. Both IL-33- and ST2-KO mice conferred significant protection compared to controls suggesting a pro-inflammatory role of IL-33/ST2 signaling in liver I/R.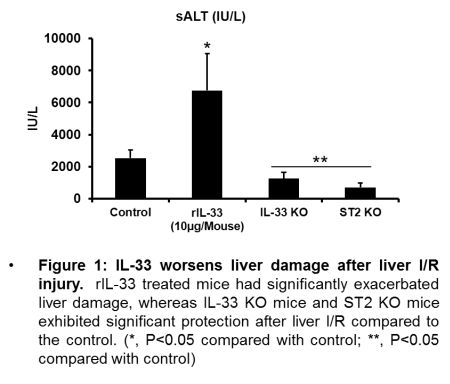 However, rIL-33 treatment led to significantly increased ALT levels compared to controls after liver I/R. Activation of MAP kinases as well as NF-ΚB was observed significantly less in IL-33-KO mice compared with WT mice after liver I/R. Both hypoxia and H2O2 treatment led to the release of IL-33 from LSECs with a time- or dose-dependent manner. Interestingly, ST2 were constitutively expressed on HCs and increased in response to hypoxic stress. In addition, rIL-33 treatment increased activation of MAP kinases in HCs. Significant increase of NK cells, neutrophils and inflammatory monocytes were observed in WT mice after liver I/R whereas the ablation of IL-33 conferred stable cell numbers of innate immune cells compared with sham mice.
Conclusion Oxidative stress induces release of IL-33 from LSECs and that IL-33/ST2 contributes to inflammation and organ damage after liver I/R injury. Furthermore, ST2 signaling in HCs provides evidence that parenchymal cells, together with immune cells, may play an important role in responding to IL-33.
To cite this abstract in AMA style:
Huang H, Chen H, Tsung A. Role of Interleukin-33/ST2 Pathway in Hepatic Ischemia/Reperfusion Injury, The [abstract].
Am J Transplant.
2013; 13 (suppl 5). https://atcmeetingabstracts.com/abstract/role-of-interleukin-33st2-pathway-in-hepatic-ischemiareperfusion-injury-the/. Accessed December 2, 2023.
« Back to 2013 American Transplant Congress