Risk Factors of COVID-19 in Kidney Transplant Recipients
M. M. Alkadi, E. Abuhelaiqa, M. Asim, O. Fituri, R. Elidrisi, R. Abdul Rahiman, M. Elshirbeny, M. Othman, A. Hamad, A. Ashour, A. Hamdi, A. Nauman, H. Tohid, M. Jarman, H. Al-Malki
Nephrology-Medicine, Hamad Medical Corporation, Doha, Qata
Meeting: 2021 American Transplant Congress
Abstract number: 775
Keywords: Infection, Kidney transplantation, Risk factors
Topic: Clinical Science » Infectious Disease » Kidney Infectious Non-Polyoma & Non-Viral Hepatitis
*Purpose: Kidney transplant recipients have been shown to develop a severe form of coronavirus disease (COVID-19) that poses a significant mortality risk. The aim of this study was to evaluate risk factors associated with acquiring COVID-19 in our kidney transplant population.
*Methods: We retrospectively reviewed the medical records of all kidney transplant recipients in our national transplant registry. There were 249 out of 693 kidney transplant recipients who underwent SARS-CoV-2 infection testing by August 1st, 2020. All testing was done by government using RT-PCR of throat and nasal swabs. Forty-three of the tested patients had positive COVID-19 (17%), while the remaining 206 were negative. Mann-Whitney and Fisher's exact tests were used to study the different continuous and categorical variables, respectively.
*Results: Among patients tested for COVID-19, Asian ethnicity (37% vs. 16%, P=0.003), history of hypertensive nephropathy (23% vs. 9%, P=0.01) and deep vein thrombosis (12% vs.1%, P=0.002) were statistically significant in COVID-19 positive group compared to COVID-19 negative group. Tacrolimus trough level at the time of COVID-19 testing was also significantly higher in COVID-19 positive patients (7.7 ng/mL vs. 6.6 ng/mL, P=0.03). Recipient age, gender, year of transplant, donor type, maintenance immunosuppression, flu vaccine within 1 year and use of ACE inhibitors or ARBs were all similar in both groups. Most patients with positive COVID-19 were symptomatic at the time of testing compared to negative patients (84% vs. 18%, P=0.0001). However, close contact with positive COVID-19 people was similar in both groups (14% vs. 14%, P=1).
*Conclusions: Prevention and reduction of COVID-19 infection development is crucial in kidney transplant recipients to avoid unfavorable outcomes. With the widespread of COVID-19 worldwide, avoiding exposure might not be possible. Our results suggest that targeting lower tacrolimus trough levels may reduce the risk of acquiring SARS-CoV-2 infection.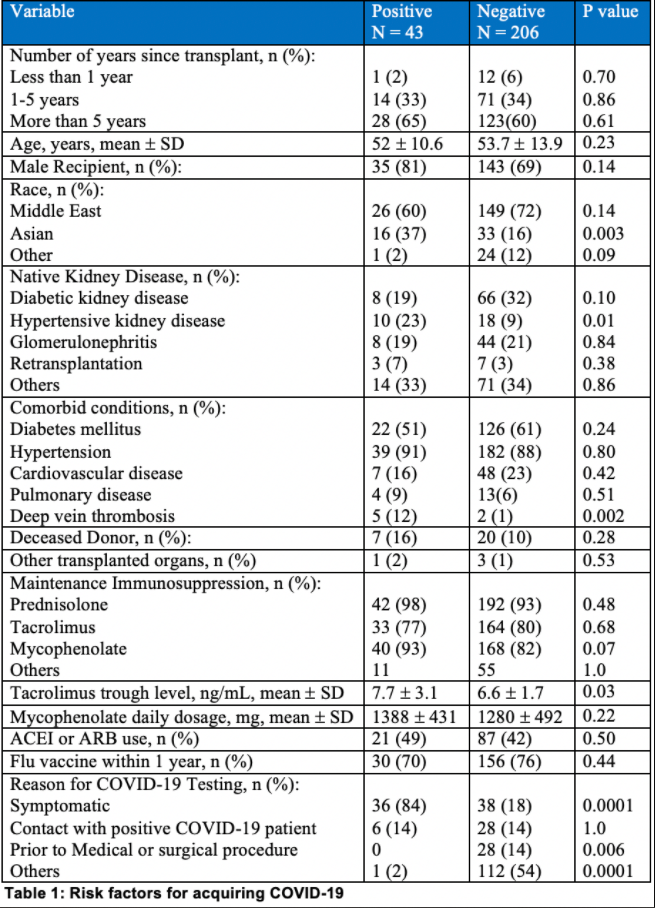 To cite this abstract in AMA style:
Alkadi MM, Abuhelaiqa E, Asim M, Fituri O, Elidrisi R, Rahiman RAbdul, Elshirbeny M, Othman M, Hamad A, Ashour A, Hamdi A, Nauman A, Tohid H, Jarman M, Al-Malki H. Risk Factors of COVID-19 in Kidney Transplant Recipients [abstract].
Am J Transplant.
2021; 21 (suppl 3). https://atcmeetingabstracts.com/abstract/risk-factors-of-covid-19-in-kidney-transplant-recipients/. Accessed June 12, 2021.
« Back to 2021 American Transplant Congress