Session Information
Session Time: 6:00pm-7:00pm
Presentation Time: 6:00pm-7:00pm
Location: Hall C & D
*Purpose: Sensitization is frequent after an allograft fails and makes re-transplant difficult for many patients.
*Methods: We performed a cross-sectional chart review of patients who were re-listed for repeat kidney transplant at 2 transplant centers, analyzing the CPRA using luminex SAB at two time points: 1) time of listing in pre-emptive patients or at start of HD in failed transplants and 2) CPRA at most recent evaluation. Patients with a CPRA of <20 at time of listing or start of HD were then subdivided into those who developed CPRA >20 (Increased CPRA group) and those who remained with CPRA <20 at most recent evaluation (Stable Low CPRA group).
*Results: A total of 192 failing allografts between 2 centers were reviewed. Figure 1 demonstrates the distribution of the most recent CPRA between the 192 allografts, of these 94 were sensitized at time of graft loss and remained sensitized with CPRA>20%.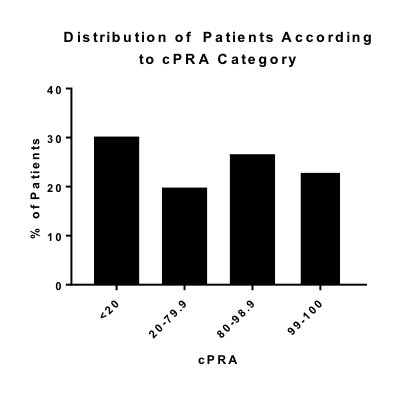 The remaining 98 were non sensitized at time of graft loss (CPRA<20%) and of these 54 patients (55.1%) remained with stable low CPRA <20% while 44 (44.9%) experienced an increase in the CPRA (Figure 2) during a median of 2.5 years of follow-up.

Risk factors for an increase in CPRA were Black race and being taken off immunosuppression from the time of listing/HD start to most recent CPRA measurement (Table 1). Patients not currently on HD were more likely to have Stable Low CPRA.
*Conclusions: There is heterogeneity in the CPRA levels following graft loss and with time, a greater proportion of patients become highly sensitized. Absence of immunosuppression post graft failure is a risk factor for sensitization. Future studies will elucidate the risk factors for an increase in CPRA as well as the optimal management of immunosuppressive therapy following graft loss.
To cite this abstract in AMA style:
Lubetzky M, Mohammed O, Hauser N, Friedlander R, Sharma V, Colovai A, Muthukumar T, Lee J, Akalin E, Dadhania D. Risk Factors for Sensitization in the Failing Allograft: A Multi-Center Experience [abstract].
Am J Transplant.
2019; 19 (suppl 3). https://atcmeetingabstracts.com/abstract/risk-factors-for-sensitization-in-the-failing-allograft-a-multi-center-experience/. Accessed June 23, 2021.
« Back to 2019 American Transplant Congress