Reduction in UTI and UTI-Related Hospitalizations with Antibiotic Prophylaxis for Stent Removal in Kidney Transplant Recipients
K. D. Belfield1, J. D. Smith2, L. F. Borges3, M. Malinis4
1Department of Pharmacy, Yale New Haven Hospital, New Haven, CT, 2Section of Nephrology, Yale School of Medicine, New Haven, CT, 3Western New England University College of Pharmacy, Springfield, MA, 4Section of Infectious Diseases, Yale School of Medicine, New Haven, CT
Meeting: 2020 American Transplant Congress
Abstract number: 274
Session Information
Session Time: 3:15pm-4:45pm
Presentation Time: 3:51pm-4:03pm
Location: Virtual
*Purpose: After kidney transplantation ureteral stents are used while the anastomosis between the transplanted ureter and the bladder heals. While the use of stents reduces the risk of urological complications, it is also associated with an increased risk of urinary tract infections (UTI). In 2019, a new stent removal antibiotic prophylaxis protocol with ciprofloxacin 500 mg every 12 hours for 4 doses starting night prior to stent removal was implemented at our center. The purpose of this study was to evaluate the efficacy of ciprofloxacin prophylaxis prior to stent removal and assess the incidence of UTI and hospitalizations after stent removal in pre-and post-prophylaxis implementation cohorts.
*Methods: We performed a retrospective, single center pre- and post-implementation chart review of adult kidney transplant recipients (KTR) with stent placement. The pre-implementation group included KTR transplanted between January and June 2018 and the post-implementation group included KTR transplanted between January and July 2019. KTR who died prior to stent removal were excluded. The primary outcome was the rate of UTI within 30 days of stent removal, as defined as presence of clinical symptoms, pyuria in urinalysis and positive urine culture. Secondary outcomes included hospitalizations secondary to UTI, rates of UTI in patients who received co-trimoxazole versus pentamidine for Pneumocystis jirovecii pneumonia (PJP) prophylaxis and rates of UTI based on induction therapy.
*Results: Fifty-eight KTR were included in the pre-implementation group and 71 KTR were included in the post-implementation group. In the pre-implementation group, 7 (12%) patients experienced a UTI within 30 days of stent removal, all of whom required hospitalization, compared to 3 (4.2%) patients with a UTI and 1 (1.4%) patient requiring hospitalization in the post-implementation group. There was no difference in rates of UTI based on agent used for PJP prophylaxis or induction.
*Conclusions: In this single center retrospective study, ciprofloxacin prophylaxis for stent removal after kidney transplant was successful in reducing incidence of UTI and UTI-related hospitalizations.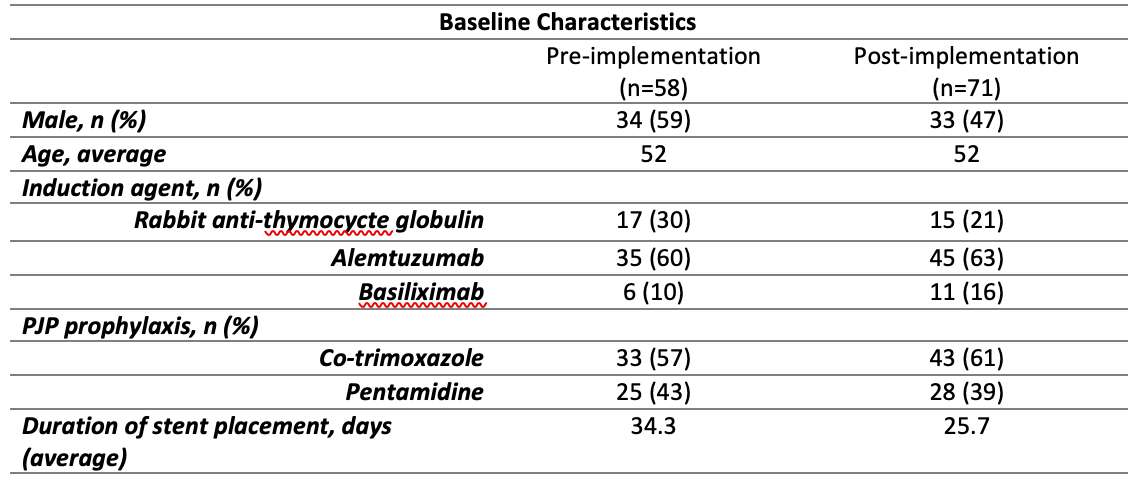 To cite this abstract in AMA style:
Belfield KD, Smith JD, Borges LF, Malinis M. Reduction in UTI and UTI-Related Hospitalizations with Antibiotic Prophylaxis for Stent Removal in Kidney Transplant Recipients [abstract].
Am J Transplant.
2020; 20 (suppl 3). https://atcmeetingabstracts.com/abstract/reduction-in-uti-and-uti-related-hospitalizations-with-antibiotic-prophylaxis-for-stent-removal-in-kidney-transplant-recipients/. Accessed April 18, 2021.
« Back to 2020 American Transplant Congress