Reduction in Physician Burnout among Transplant Surgeons: A Preliminary Result of the Role of 'Medical Missions'
N. T. Ngo1, D. Halpin2, P. Sindhwani3, O. Ekwenna3
1MS2, University of Toledo College of Medicine & Life Sciences, Toledo, OH, 2MS4, University of Toledo College of Medicine & Life Sciences, Toledo, OH, 3Department of Urology and Transplantation, University of Toledo College of Medicine & Life Sciences, Toledo, OH
Meeting: 2020 American Transplant Congress
Abstract number: A-252
Keywords: Outcome, Psychosocial, Public policy, Quality of life
Session Information
Session Time: 3:15pm-4:00pm
Presentation Time: 3:30pm-4:00pm
Location: Virtual
*Purpose: The objective of this preliminary study was to report prevalence of burnout among transplant surgeons who participated in a cross-sectional survey and to assess the effect participation in medical missions has on burnout in this cohort.
*Methods: A 27-question survey was administered by Qualtrics: 28 transplant surgeons with prior participation in medical missions submitted answers to questions about medical specialty, exhaustion, productivity, general feelings of burnout, involvement in medical missions, and feelings of burnout before and after a medical mission.
*Results: 1 out of 28 reported total satisfaction with their work with no symptoms of burnout prior to a medical mission, while 5 out of 28 reported total satisfaction with their work after medical missions. Overall, 43% of transplant physicians reported burnout before participating in medical missions, while 32% of transplant physicians reported burnout after medical missions.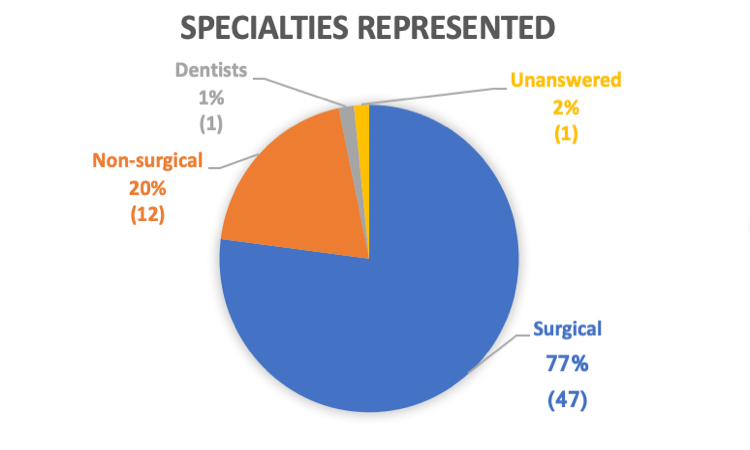 *Conclusions: Participation in medical missions has the potential to decrease physician burnout and increase job satisfaction among transplant surgeons. Further research is needed to explore the potential benefits of medical missions on participating surgeons and the host communities.
To cite this abstract in AMA style:
Ngo NT, Halpin D, Sindhwani P, Ekwenna O. Reduction in Physician Burnout among Transplant Surgeons: A Preliminary Result of the Role of 'Medical Missions' [abstract].
Am J Transplant.
2020; 20 (suppl 3). https://atcmeetingabstracts.com/abstract/reduction-in-physician-burnout-among-transplant-surgeons-a-preliminary-result-of-the-role-of-medical-missions/. Accessed December 7, 2021.
« Back to 2020 American Transplant Congress