Pilot Study: Effect of Dual Ex Vivo Lung Perfusion on Human Lung Preservation
1Department of Cardiothoracic Surgery, University of Pittsburgh, Pittsburgh, PA, 2Division of Pulmonary, Allergy, and Critical Care Medicine, University of Pittsburgh, Pittsburgh, PA, 3Division of Cardiovascular Surgery, Temple University, Philadelphia, PA
Meeting: 2020 American Transplant Congress
Abstract number: 523
Keywords: Lung preservation
Session Information
Session Time: 3:15pm-4:45pm

Presentation Time: 4:03pm-4:15pm
Location: Virtual
*Purpose: We have developed a novel lung preservation technique, dual ex vivo lung perfusion (dual EVLP) where both pulmonary artery (PA) and bronchial artery (BA) can be synchronously perfused during EVLP and demonstrated its beneficial effects on the quality of lung grafts in small animal models. In this study, we evaluated the feasibility of dual EVLP techniques using human lungs and confirm the effect of BA perfusion on the lung during EVLP.
*Methods: Human donor lungs that were rejected for transplantation because of clinical concerns were cautiously harvested with thoracic aorta and esophagus en bloc. The PA, pulmonary vein, trachea, and descending aorta were cannulated and then the lungs were mechanically ventilated and perfused through PA circulation at normothermia for 4 hours. Simultaneously the BA circulation was maintained with the pressure at 60 mmHg and saturated with air, while PA flow was maintained with low pressure and deoxygenated. (Figure 1A) The data of EVLP parameters and biomolecular assessment in tissue after EVLP were compared to those with the standard EVLP.
*Results: The dual EVLP was securely performed without technical problems for 4 hours. The EVLP parameters including PaO2/FiO2 and lung compliance were better, especially pulmonary vascular resistance was significantly better than those in control overall time (Figure 1B). The BA circulation reaching out lower trachea, carina (Figure 1C), and bilateral main bronchus as well as connective tissues in the mediastinum and visceral pleura in bilateral lungs where no perfusion was confirmed with standard EVLP. The lung mass weight gain and change of wet-to-dry ratio between before and after EVLP were lower on dual EVLP than control. The upregulation of gene expressions for proinflammatory cytokines and hypoxia-related genes was found in the lung tissue between 1 hour and 4 hours during standard EVLP, but it was improved by dual EVLP.
*Conclusions: This is first demonstration for the technical feasibility of dual EVLP using human lungs. The potential contribution to better graft protection on ex vivo environment was confirmed in terms of airway microcirculation which may contribute to better graft preservation and preventing posttransplant airway complication.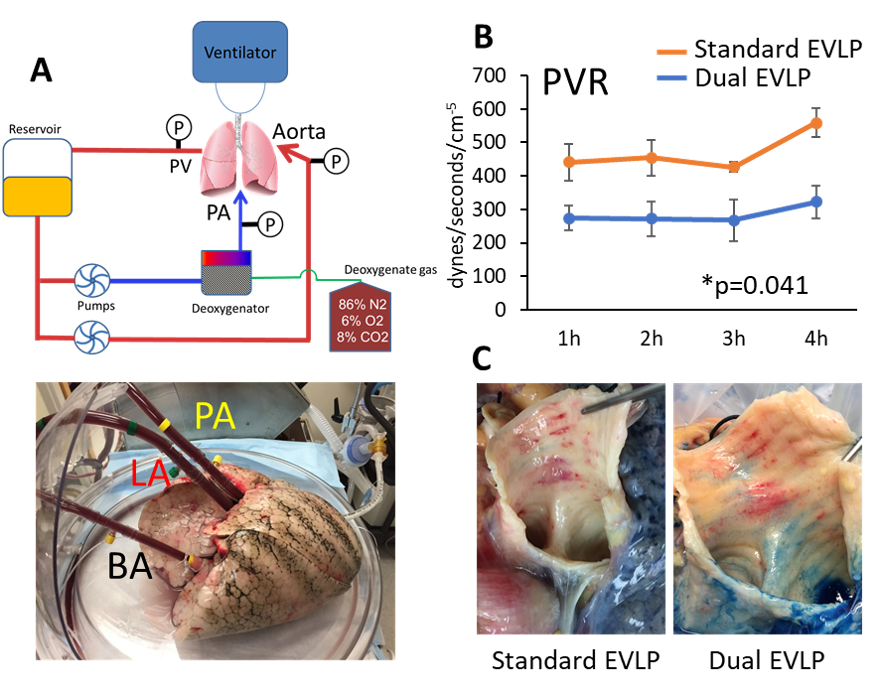 To cite this abstract in AMA style:
Noda K, Sembrat J, Philips BJ, Harano T, Rojas M, Sanchez PG, Shigemura N. Pilot Study: Effect of Dual Ex Vivo Lung Perfusion on Human Lung Preservation [abstract].
Am J Transplant.
2020; 20 (suppl 3). https://atcmeetingabstracts.com/abstract/pilot-study-effect-of-dual-ex-vivo-lung-perfusion-on-human-lung-preservation/. Accessed March 26, 2023.
« Back to 2020 American Transplant Congress