Parental Anxiety and Depression Rates across Pediatric Solid Organ Transplant Populations
A. M. Lofton1, A. Wille1, E. A. Steinberg2, C. Buchanan2
1Psychiatry, Children's Hospital Colorado, Aurora, CO, 2Psychiatry, University of Colorado SOM, Children's Hospital Colorado, Aurora, CO
Meeting: 2019 American Transplant Congress
Abstract number: D310
Keywords: Adverse effects, Psychosocial, Quality of life, Risk factors
Session Information
Session Time: 6:00pm-7:00pm
Presentation Time: 6:00pm-7:00pm
Location: Hall C & D
*Purpose: This study's purpose is to examine parental self-report of depression and anxiety symptoms during the pre-transplant evaluation process for solid organ transplant pediatric candidates and to better understand demographics that may be related to parental mental health during this stressful time.
*Methods: This study used a clinical registry of standard psychology measures for pediatric transplant patients to determine level of depression and anxiety symptoms self-reported by a caregiver on the Beck Depression Inventory, Second Addition (BDI-II) and the Beck Anxiety Inventory (BAI) during the pre-transplant evaluation. Participants include pediatric transplant patients between the ages of 0 and 19 who were evaluated for a heart, liver, or kidney transplant at our center between August 2013 and September 2018 (N=101).
*Results: The current sample was comprised of 44% kidney, 34% heart, and 22% liver transplant patients. On the BDI-II, 22.8% of caretakers reported depression symptoms with 11.9% reporting symptoms classified as moderate to severe. On the BAI, 35.6% reported anxiety symptoms with 11.9% reporting symptoms classified moderate to severe. Figures 1 and 2 illustrate varying rates of parental anxiety and depression based on organ type and whether families lived in state or out of state in relation to the transplant center.
*Conclusions: This study found that rates of parental anxiety were highest in heart transplant patients, followed by liver transplant, which may be related to the acuity of these diseases in comparison to the more chronic course of kidney transplant. Further, higher rates of anxiety for out of state parents reflect the additional stress of relocation. Family psychosocial functioning is directly associated with positive health-related outcomes for pediatric transplant recipients. The presenting rates of depression and anxiety found in this study are considerably high when compared to the general population, though consistent with other illness groups. Parents struggling with anxiety/depression are more likely to have difficulties supervising their child's medical regimen and attending their child's medical appointments and are at greater risk for engaging in risky behaviors, all of which can lead to worse outcomes, including graft failure. A more thorough understanding of parental mental health status during pre-transplant evaluation may allow for earlier intervention and more positive medical outcomes for the patient.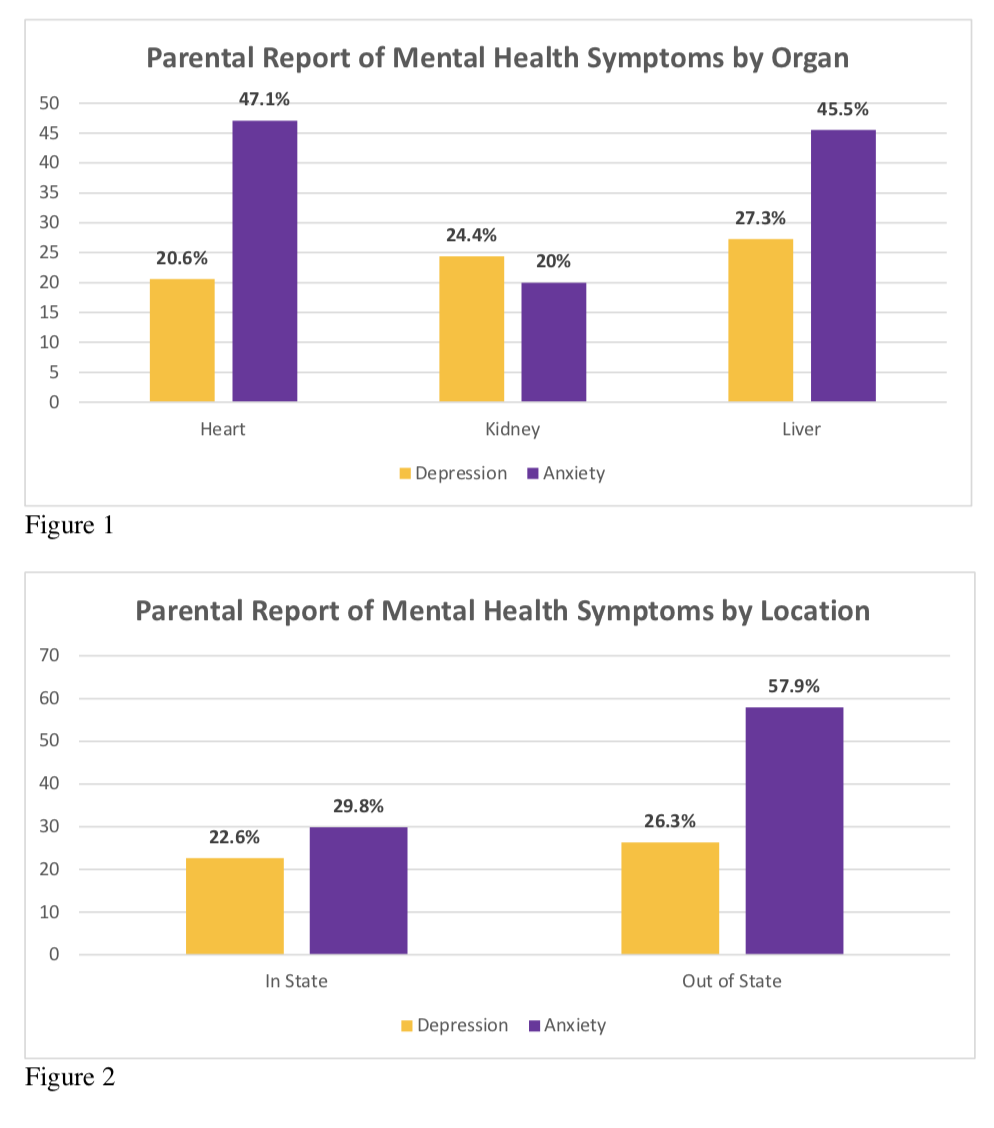 To cite this abstract in AMA style:
Lofton AM, Wille A, Steinberg EA, Buchanan C. Parental Anxiety and Depression Rates across Pediatric Solid Organ Transplant Populations [abstract].
Am J Transplant.
2019; 19 (suppl 3). https://atcmeetingabstracts.com/abstract/parental-anxiety-and-depression-rates-across-pediatric-solid-organ-transplant-populations/. Accessed July 30, 2021.
« Back to 2019 American Transplant Congress