Non-Influenza Respiratory Viral Infections in Solid Organ Transplant Patients at Two Midwestern Transplant Centers, 2009-2012
Division of Infectious Diseases, The Ohio State University College of Medicine, Columbus
Northwestern University, Chicago
Northwestern University Transplant Outcomes Collaboration, Chicago
Meeting: 2013 American Transplant Congress
Abstract number: A591
Purpose: Expanded availability of multi-pathogen PCR assays has allowed the detection of common respiratory viruses in clinical specimens. Few studies have investigated the epidemiology and clinical impact of non-influenza respiratory viruses on solid organ transplant patients.
Methods: This is a multi-center retrospective cohort study of all adult solid organ transplant recipients diagnosed with a non-influenza respiratory virus infection (RVI) by molecular diagnostic method (xTAG RVP) at 2 centers from 10/1/09 – 9/30/12. Epidemiologic and clinical data were collected from chart review of identified patients.
Results: Seventy-seven of 442 solid organ transplant recipients who had RVP performed during the study period had a RVI identified in 88 assays (see Table 1 for Demographics). Forty-seven patients had rhinovirus, 10 had RSV, 7 had metapneumovirus, 5 had parainfluenza virus, 1 had adenovirus, 1 patient had 3 episodes of RVI (rhinovirus, RSV and parainfluenza) and 2 patients had 2 separate episodes of rhinovirus infection. Thirty-five (45%) patients with RVI were hospitalized after or at the time of the RVP. Twenty-six (34%) episodes of RVI were associated with bacterial infections, 11 with other viral infections and 2 with fungal infections. Eight (10%) patients required ICU care during hospitalization. No patient died as a result of the RVI and only 1 patient received directed anti-viral therapy.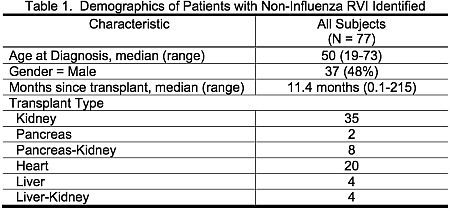 Conclusions: Non-influenza RVIs can result in significant morbidity and are frequently associated with secondary infections.
To cite this abstract in AMA style:
Theodoropoulos N, Martin S, Ho B, Ison M. Non-Influenza Respiratory Viral Infections in Solid Organ Transplant Patients at Two Midwestern Transplant Centers, 2009-2012 [abstract].
Am J Transplant.
2013; 13 (suppl 5). https://atcmeetingabstracts.com/abstract/non-influenza-respiratory-viral-infections-in-solid-organ-transplant-patients-at-two-midwestern-transplant-centers-2009-2012/. Accessed December 2, 2023.
« Back to 2013 American Transplant Congress