Native Nephrectomy in Pediatric Kidney Transplant Recipients
1Transplant Surgery, Children's Hospital Colorado, Aurora, CO, 2Pediatric Nephrology, Children's Hospital Colorado, Aurora, CO
Meeting: 2021 American Transplant Congress
Abstract number: 1024
Keywords: Hypertension, Nephrectomy, Nephrotic syndrome, Pediatric
Topic: Clinical Science » Kidney » Kidney: Pediatrics
Session Information
Session Name: Kidney: Pediatrics
Session Type: Poster Abstract
Session Date & Time: None. Available on demand.
*Purpose: Data on native nephrectomy in children with renal disease requiring kidney transplantation is scarce. The aim of this study was to characterize demographics and outcomes of pediatric kidney transplant recipients that underwent a peri-transplant native nephrectomy.
*Methods: All pediatric kidney transplants performed at our institution between January 2012 and May 2020 were retrospectively reviewed. Recipients that had undergone unilateral or bilateral native nephrectomy, pre-, during, or post-kidney transplant were identified.
*Results: 39 of the 159 (25%) pediatric kidney recipients underwent native nephrectomy. Performance of native nephrectomy became more common at our program over time (Figure 1). Indications for native nephrectomy included refractory hypertension (3%), polyuria (51%), nephrotic syndrome or proteinuria (15%), infection (15%), congenital anomalies (23%), and malignancy (5%). Recipients that underwent nephrectomy were significantly younger and smaller, and more frequently received a preemptive kidney transplant and a living donor graft than recipients that did not undergo native nephrectomy (Table 1). 13 recipients had undergone bilateral nephrectomies. Nephrectomies were most commonly performed concurrently with the transplant (64%) and less commonly pre- (28%) or post-transplant (8%). Nephrectomies were most commonly performed open (89%) and via a retroperitoneal approach (68%). There were no significant differences in post-transplant hospital length of stay, rate of acute rejection, post-transplant UTI, hospital readmission, reoperation, vascular complications, or de novo donor specific antibody formation (p > 0.05 for all comparisons). There was also no significant difference in recipient (p = 0.5) or graft (p = 0.06) survival between the two groups.
*Conclusions: Native nephrectomy is common among pediatric kidney transplant recipients at our institution, most commonly for the management of polyuria and performed at time of transplant. Native nephrectomy does not have negative consequences on hospital length of stay, complications, or survival.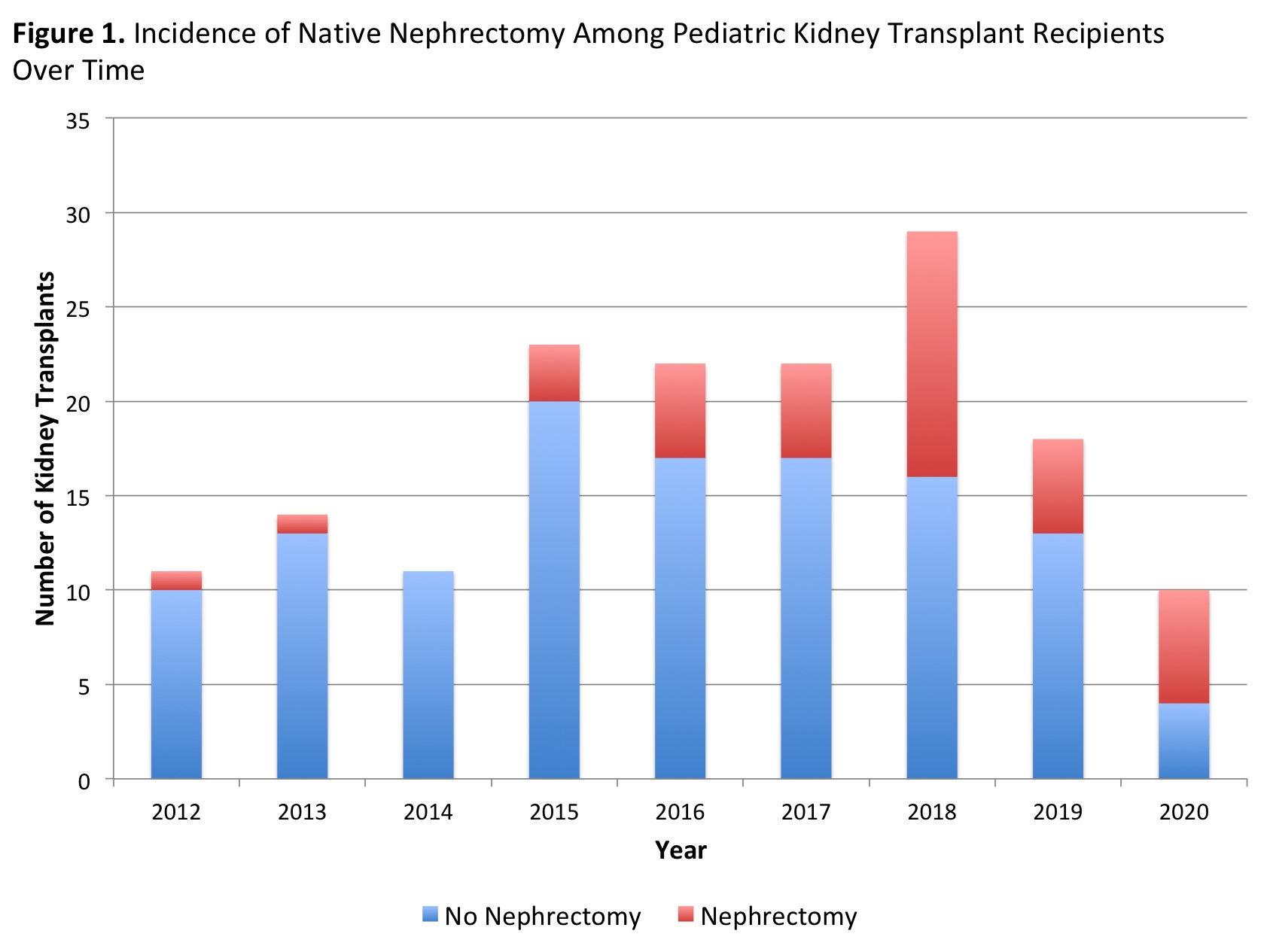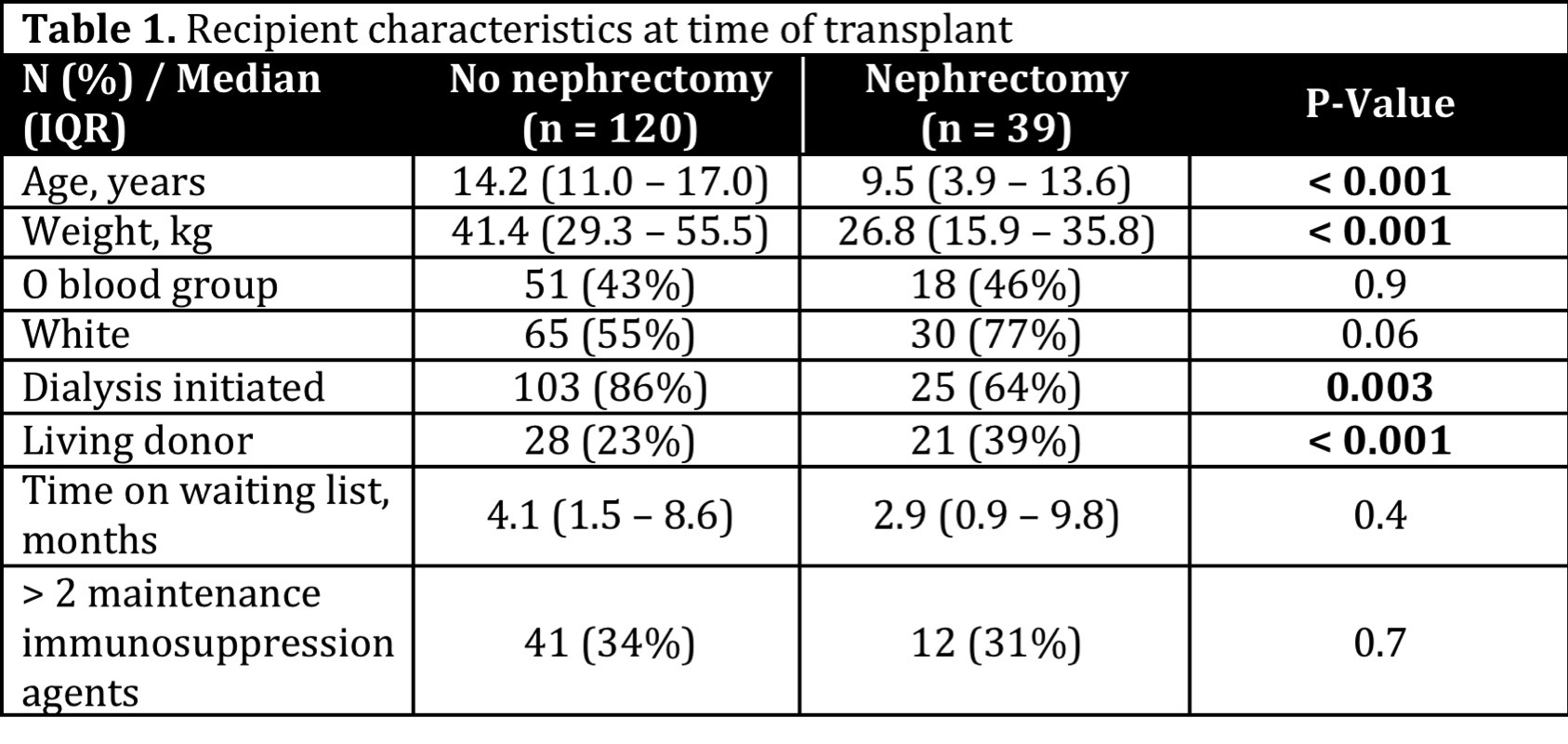 To cite this abstract in AMA style:
Yoeli D, Sater A, Peace A, Wachs ME, Bock M, Adams MA. Native Nephrectomy in Pediatric Kidney Transplant Recipients [abstract].
Am J Transplant.
2021; 21 (suppl 3). https://atcmeetingabstracts.com/abstract/native-nephrectomy-in-pediatric-kidney-transplant-recipients/. Accessed August 10, 2022.
« Back to 2021 American Transplant Congress