Mechanical Trauma Can Reactivate an Alloimmune Response Against the Skin-Component in a Large Animal Vascularized Composite Allotransplantation (VCA) Model of Operational Tolerance
Plastic and Reconstructive Surgery, Johns Hopkins University, Baltimore
Meeting: 2013 American Transplant Congress
Abstract number: 560
BACKGROUND: The skin component of Vascularized Composite Allografts (VCA) is unique since it is directly exposed to the environment. It thereby not only offers opportunities for non-invasive immune monitoring but also poses challenges related to its immunogenicity and interaction with the environment. Although the clinical scope of VCA has widened and the immunologic mechanisms involved in skin rejection are better defined, there is very limited data related to the impact of mechanical trauma on rejection of the skin component of VCA.
METHODS: Fully SLA-mismatched MGH miniature swine (n=24) underwent heterotopic hind-limb transplantation and received a short course (30 days) of tacrolimus monotherapy. Group 1 (control): no treatment. Group 2: short-term tacrolimus only; and Group 3: BM, tacrolimus and CTLA4Ig. Sequential skin and muscle biopsies were performed for histologic analysis. Mixed lymphocyte reaction was used to determine donor specific hypo responsiveness.
RESULTS: Co-stimulation blockade based immunomodulatory protocol resulted in indefinite graft survival (operational tolerance) in 5 out of 8 animals whereas control and tacrolimus only groups rejected allografts at days 6+/-2 and 28+/-3 respectively. One of the long-term survivors in costimulation blockade group experienced repetitive mechanical trauma from cage wires at POD 96 (off Immunosuppression for 2 months). This was followed by histologic evidence of skin rejection (Banff Grade 2) at POD 100 and accelerated allograft rejection and loss of epidermis by POD 110 as evidenced by clinical and histologic examination (Figure 1).
CONCLUSION: Combined costimulation blockade and donor bone marrow cell infusion can induce operational tolerance in a fully MHC-mismatched hind limb transplant model. Mechanical trauma can eventually reactivate an alloimmune response and accelerate graft rejection.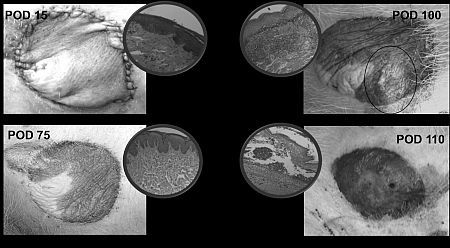 To cite this abstract in AMA style:
Christensen J, Ibrahim Z, Wu L, Barone ALeto, Furtmuller G, Sarhane K, Al-Rakan M, Schneeberger S, Shores J, Bonawitz S, Cooney D, Sacks J, Lee W, Brandacher G. Mechanical Trauma Can Reactivate an Alloimmune Response Against the Skin-Component in a Large Animal Vascularized Composite Allotransplantation (VCA) Model of Operational Tolerance [abstract].
Am J Transplant.
2013; 13 (suppl 5). https://atcmeetingabstracts.com/abstract/mechanical-trauma-can-reactivate-an-alloimmune-response-against-the-skin-component-in-a-large-animal-vascularized-composite-allotransplantation-vca-model-of-operational-tolerance/. Accessed September 24, 2020.
« Back to 2013 American Transplant Congress