LDLT for High MELD Recipients: A Single Center Experience
S. Ganesh, M. Molinari, T. Amit, H. Christopher, H. Abhinav.
Surgery, University of Pittsburgh, Pittsburgh, PA.
Meeting: 2018 American Transplant Congress
Abstract number: 553
Keywords: Graft survival, Liver grafts, Living-related liver donors, Outcome
Session Information
Session Time: 4:30pm-6:00pm
Presentation Time: 5:06pm-5:18pm
Location: Room 608/609
Objectives: Living donor liver transplantation (LDLT) is underutilized in high MELD patients. Our aim was to assess the impact of high MELD score on short-term post-transplant outcomes in LDLT recipients at our center.
Methods: A total of 352 adult LDLT's were performed from 1999 to present and review of outcomes was analyzed retrospectively. Patients were grouped into low MELD<25 and high MELD ≥25 score to compare short-term outcomes.
Results: A total of 326 recipients were in low MELD group with mean MELD of (13.72 ± 4.82) and 26 in high MELD group with mean MELD of (27.92 ± 3.72), P <0.0001. There were no significant differences between the 2 groups with regards to demographics including age, gender, etiology of liver disease, BMI or incidence of HCC. The right lobe was the most commonly used graft in both groups, but the middle hepatic vein was included more commonly in the graft when it was utilized in high MELD patients. The postoperative complications were similar including PVT, and bile leak/stricture. No significant difference was noted in patient survival at 3 month (96.6% vs 96.1%, P=0.61) and at 1 year (88.3% vs 84.6%, P=0.53) between the groups. No significant difference in the graft survival at 3 months (92.9 vs 88.5%, P= 0.43) and 1 year (82.8 vs 76.9%, P= 0.43). There were also no significant differences with regards to outcomes including cause of death, and incidence of late complications including CKD, rejection, infections, PTLD, and other malignancies, between the two groups.
Conclusion: LDLT can be utilized in high MELD patients with reasonable outcomes- it is important to use an appropriate graft to match the higher acuity.
Patient Characteristics between High and low MELD Groups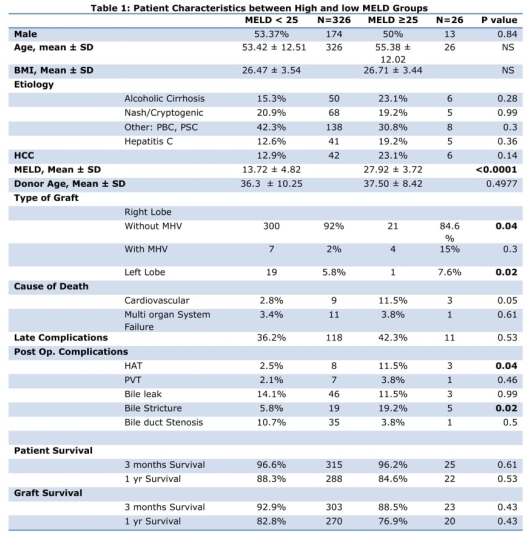 CITATION INFORMATION: Ganesh S., Molinari M., Amit T., Christopher H., Abhinav H. LDLT for High MELD Recipients: A Single Center Experience Am J Transplant. 2017;17 (suppl 3).
To cite this abstract in AMA style:
Ganesh S, Molinari M, Amit T, Christopher H, Abhinav H. LDLT for High MELD Recipients: A Single Center Experience [abstract]. https://atcmeetingabstracts.com/abstract/ldlt-for-high-meld-recipients-a-single-center-experience/. Accessed October 18, 2021.
« Back to 2018 American Transplant Congress