Impact of Pre-Existing and New Onset Diabetes on Hepatitis C Recurrence Following Liver Transplant, The
Pharmacy, MUSC, Charleston, SC
Surgery, MUSC, Charleston, SC
Meeting: 2013 American Transplant Congress
Abstract number: B1073
Background: Hepatitis C (HCV) is the leading indication for liver transplantation in the United States. HCV recurrence after transplant is universal with several factors, including diabetes, contributing to fibrosis progression. The impact of pre-existing diabetes as compared to new onset diabetes after transplant (NODAT) on fibrosis progression has not been well studied.
Methods: This was a retrospective longitudinal cohort study of all liver transplants for HCV at our institution between Jan 2000 and June 2011. Patients were excluded if they were <18 years old or had graft loss in <1 year. Patients were divided into three groups for comparison of baseline characteristics and clinical outcomes: pre-existing diabetes, NODAT (defined as patient receiving insulin or oral antihyperglycemic agent >30 days post-transplant), and no diagnosis of diabetes.
Results: A total of 203 liver transplants for HCV were performed over this time period. Baseline characteristics and clinical outcomes are displayed in Table 1. Recipient age, donor age, and gender were not different between the three study groups; patients with pre-existing diabetes were more likely to be African-American. No differences in acute rejection, graft loss, or death were seen between the groups. Patients with pre-existing diabetes or NODAT were more likely to experience HCV recurrence with at least stage 1 fibrosis (p=0.006). There was a trend toward a higher incidence of at least stage 2 fibrosis in the diabetic groups (p=0.063).
Conclusion: Diabetes is associated with an increased risk of HCV-related fibrosis. Patients with pre-existing diabetes are at greatest risk, however, the patients with NODAT experienced significantly greater HCV-related fibrosis compared to those without diabetes. Future efforts should be focused on reducing the incidence of NODAT and investigating the impact of diabetes on HCV recurrence and HCV-related fibrosis.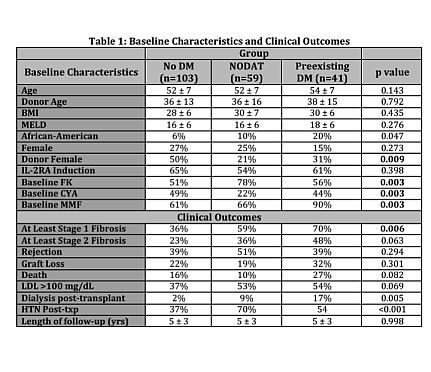 To cite this abstract in AMA style:
Morbitzer K, Taber D, Fleming J, Pilch N, Meadows H, Jordan C, Makowski C, Mardis A, Bratton C, Baliga P, Chavin K, McGillicuddy J. Impact of Pre-Existing and New Onset Diabetes on Hepatitis C Recurrence Following Liver Transplant, The [abstract].
Am J Transplant.
2013; 13 (suppl 5). https://atcmeetingabstracts.com/abstract/impact-of-pre-existing-and-new-onset-diabetes-on-hepatitis-c-recurrence-following-liver-transplant-the/. Accessed May 7, 2021.
« Back to 2013 American Transplant Congress