Session Information
Session Time: 5:30pm-7:30pm
Presentation Time: 5:30pm-7:30pm
Location: Halls C&D
Introduction:Plasma cells (PCs) are a major source of alloantibody in transplant patients.They are resistant to current therapy. Since receptor/ligand interactions in the stromal environment are known to play important roles in the survival of normal PCs, we hypothesized that interfering with CXCR4/CXCL12 interactions with plerixafor might cause PC depletion and enhance the efficacy of the proteasome inhibitor, bortezomib.
Method: Mice were treated with single dose or multiple dose plerixafor in doses ranging from 0 to 5mg/kg as well as combination therapy with plerixafor then bortezomib one hour later. Plerixafor 1mg/kg was also administered to mice one hour after splenectomy was carried out. Peripheral blood, spleen and bone marrow cells that were CD3- and CD 138+ were collected and counted. Statistical analyses were done on the results obtained.
Results: Blockade of CXCR4/CXCL12 with plerixafor resulted in an increase in mobilization of PCs into the peripheral blood, but no decrease of PCs in the bone marrow or spleen. In the bone marrow, bortezomib led to a decrease in PCs compared to control, however when a combination of plerixafor and bortezomib was administered the number of PCs remaining was less than control but similar to bortezomib alone. In the spleen, the number of PCs isolated was no different from the control or bortezomib only treatment groups (figure1). Splenectomy completely abrogated the mobilization of PCs into the peripheral blood, suggesting that plerixafor- mobilized cells were predominantly from the spleen(figure2).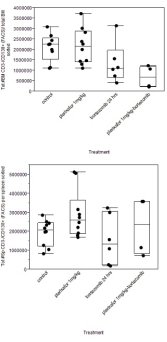 .

.
Conclusion: We conclude that CXCR4/CXCL12 interactions are important for the retention of a subpopulation of plasma cells in the marrow. The lack of enhancement of bortezomib mediated depletion suggests that other factors other than CXCR4/CXCL12 interactions are responsible for drug resistance.
CITATION INFORMATION: Bonner K, Moore N, Moreno Gonzales M, Stegall M. Impact of CXCR4/CXCL12 Blockade on Normal Plasma Cells In Vivo. Am J Transplant. 2016;16 (suppl 3).
To cite this abstract in AMA style:
Bonner K, Moore N, Gonzales MMoreno, Stegall M. Impact of CXCR4/CXCL12 Blockade on Normal Plasma Cells In Vivo. [abstract].
Am J Transplant.
2016; 16 (suppl 3). https://atcmeetingabstracts.com/abstract/impact-of-cxcr4cxcl12-blockade-on-normal-plasma-cells-in-vivo-2/. Accessed February 28, 2021.
« Back to 2016 American Transplant Congress