HOPE in Action: A Multicenter Prospective Study of HIV to HIV Liver Transplantation
1Medicine, Johns Hopkins University, Baltimore, MD, 2Surgery, Mount Sinai, New York, NY, 3Surgery, Johns Hopkins University, Baltimore, MD, 4Surgery, University of California San Francisco, San Francisco, CA, 5Medicine, University of California San Francisco, San Francisco, CA, 6Surgery, University of Minnesota, Minneapolis, MN, 7Medicine, University of Minnesota, Minneapolis, MN, 8Medicine, Mass General Hospital, Boston, MA, 9Surgery, Emory University, Atlanta, GA, 10Medicine, Duke University, Durham, NC, 11Medicine, Northwestern University, Chicago, IL, 12Medicine, Mount Sinai, New York, NY
Meeting: 2019 American Transplant Congress
Abstract number: 343
Keywords: Hepatitis, HIV virus, Infection, Liver transplantation
Session Information
Session Time: 4:30pm-6:00pm
Presentation Time: 5:42pm-5:54pm
Location: Room 302
*Purpose: HIV+ liver transplant (LT) candidates face higher mortality and lower access to transplant compared to HIV- counterparts. With the US HOPE Act, HIV+ donor to HIV+ recipient (HIV D+/R+) transplantation is being explored as a potential solution.
*Methods: We performed a prospective multicenter study comparing LT outcomes between HIV+ recipients of HIV D+ and HIV- donor (D-) livers. Recipients had to have suppressed HIV RNA and CD4>100 cells. The HOPE Act allowed for D+ with any CD4 or HIV RNA and donors with false-positive (FP) HIV tests.
*Results: From 3/2016-10/2018, there were 35 LTs at 8 centers: 16 HIV D+/R+, 19 HIV D-/R+ (10 with FP donors). Recipients were similar except for MELD at transplant: median(IQR) 24(18-32), 13(7-21), and 18.5(16-21) for D-, FP, and D+, respectively(p=.03, Table1). No HIV breakthroughs occurred. Opportunistic infections were rare(2 in D-/R+, 1 in D+/R+ Table2). There were 3 deaths among HIV D+/R+; causes were pneumonia, day 7; graft failure, day 30; pulmonary hypertension, 4.6 months, none directly attributed to donor HIV status. Survival shown in Fig1A. Rejection was uncommon (16%, D-/R+; 6% D+/R+, Fig1B).
*Conclusions: In this series, HIV+ recipients were transplanted at a lower MELD with HIV D+ and FP donor organs, demonstrating that continued efforts under the HOPE Act might improve access to LT for a vulnerable population. This cohort, while the first series and largest reported worldwide, remains relatively small and continued surveillance of outcomes is critical.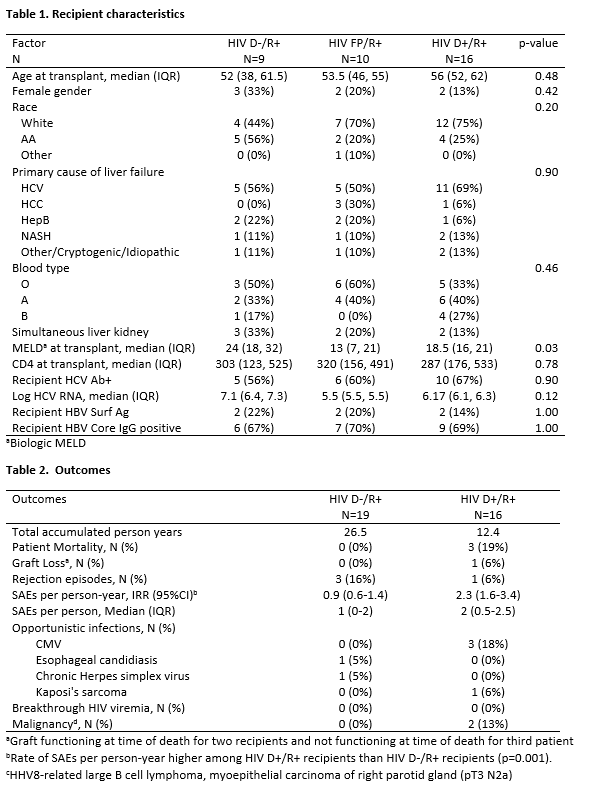 To cite this abstract in AMA style:
Durand C, Florman S, Bowring M, Brown D, Haydel B, Hamilton J, Stock P, Price J, Pruett T, Kirchner V, Wojciechowksi D, Turgeon N, Wolfe C, Stosor V, Charette J, Cameron A, Ottmann S, Huprikar S, Segev D. HOPE in Action: A Multicenter Prospective Study of HIV to HIV Liver Transplantation [abstract].
Am J Transplant.
2019; 19 (suppl 3). https://atcmeetingabstracts.com/abstract/hope-in-action-a-multicenter-prospective-study-of-hiv-to-hiv-liver-transplantation/. Accessed September 21, 2021.
« Back to 2019 American Transplant Congress