Session Information
Session Time: 6:00pm-7:00pm
Presentation Time: 6:00pm-7:00pm
Location: Hall 4EF
HOPE in Action is a multicenter trial designed to evaluate the safety of HIV+ to HIV+ transplantation (NCT02602262). In this trial, organs from donors with true HIV infection (HIV D+) and false-positive (FP) HIV tests can be used for transplant in HIV+ recipients (HIV R+).
Methods: HIV FPs were defined as donors with 1) no known history of HIV and 2) discordant HIV antibody (Ab) and qualitative nucleic acid test (NAT). Confirmatory HIV testing included an HIV Ab/antigen test, an HIV western blot in cases of HIV Ab+/NAT- donors, and quantitative HIV PCR in cases of HIV Ab-/NAT+ cases (Abbott). Demographics and clinical characteristics were compared using Kruskal Wallis and Fischer's exact tests.
Results: Between 3/2016-11/2017, 21 HOPE donors were authorized for donation (Table 1). Four donors did not progress to transplant: 2 had organs discarded due to biopsy results (1 HIV D+ and 1 FP) and 2 HIV D+ did not progress to cardiac death. Of the remaining 17 donors, 8 were FP (75% HIV Ab+/NAT-, Table 2). Of the 9 HIV D+, 8 were on antiretroviral therapy (ART). Six had undetectable HIV RNA on ART and two had detectable HIV RNA (40 and 1540 copies/mL, respectively). Two HIV D+ were known to have ART resistance (Table 2). ART regimens were changed due to donor factors in 3 D+/R+ KT recipients and 1 D+/R+ LT recipient. Of the 12 D+/R+ KT recipients and 6 D+/R+ LT recipients, there were no episodes of HIV virologic failure.
Conclusion: Under the HOPE Act, nearly half of the organs used to date were from FP donors. In this study, donors with a wide range of virologic characteristics, including HCV co-infection and history of ART resistance, were used for transplant among HIV+ recipients and preliminary results show good short-term outcomes.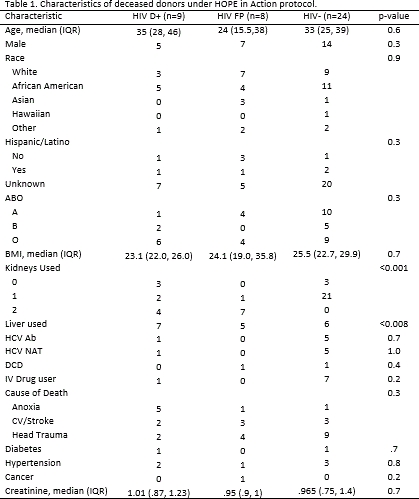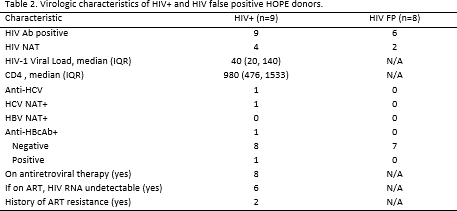 CITATION INFORMATION: Durand C., Seaman S., Bowring M., Doby B., Ostrander D., Redd A., Waldram M., Huprikar S., Haydel B., Lerner S., Florman S., Turgeon N., Friedman-Moraco R., Massie A., Segev D. HOPE Act Deceased Organ Donors: True and False Positive Donors Am J Transplant. 2017;17 (suppl 3).
To cite this abstract in AMA style:
Durand C, Seaman S, Bowring M, Doby B, Ostrander D, Redd A, Waldram M, Huprikar S, Haydel B, Lerner S, Florman S, Turgeon N, Friedman-Moraco R, Massie A, Segev D. HOPE Act Deceased Organ Donors: True and False Positive Donors [abstract]. https://atcmeetingabstracts.com/abstract/hope-act-deceased-organ-donors-true-and-false-positive-donors/. Accessed June 13, 2021.
« Back to 2018 American Transplant Congress