HIV Resistance among HOPE Donor Referrals
1Johns Hopkins University School of Medicine, Baltimore, MD, 2National Institute of Allergy and Infectious Diseases, Bethesda, MD
Meeting: 2019 American Transplant Congress
Abstract number: A186
Keywords: HIV virus
Session Information
Session Time: 5:30pm-7:30pm
Presentation Time: 5:30pm-7:30pm
Location: Hall C & D
*Purpose: After success in South Africa, HIV+ deceased donor (HIV D+) organs can now be used for transplant to HIV+ recipients in the US under HOPE Act research protocols. Transmission of donor-derived resistant HIV was not reported in South Africa where antiretroviral therapy (ART) resistance is rare, but is a concern in the US, where resistance is more common. We aimed to characterize the prevalence and type of HIV resistance among HIV D+ referred to Organ Procurement Organizations (OPOs) in the US.
*Methods: Potential HIV D+ were referred to partnering OPOs. After obtaining authorization, medical history was collected and blood was obtained for HIV viral load, CD4 cell count, ART resistance, and HIV co-receptor tropism testing. Resistance and tropism were determined in viremic HIV D+ using the Genosure Prime and standard Trofile assays; in virally suppressed HIV D+ using the Genosure Archive and Trofile DNA assays (Monogram Biosciences). HIV resistance was defined as the detection of either X4 or dual/mixed tropic virus (resistant to maraviroc) tropism, or major resistance mutations as defined by the Stanford University HIV Drug Resistance Database.
*Results: From 02/2016 to 10/2018, there were 71 HIV D+ referrals with authorization for research. There were no significant differences between donors with and without resistance, except for CD4% (Table 1). Among 71 donors, 28 (36.4%) had resistance: 18 (25.4%) had dual/mixed R5/X4 virus; 16 (22.5%) had major ART resistance mutations, including resistance to nucleoside reverse transcriptase inhibitors (NRTI) in 7 (9.9%), non-nucleoside reverse transcriptase inhibitors (NNRTI) in 11 (15.5%), integrase inhibitors (INSTI) in 1 (1.4%), and protease inhibitors (PI) in 6 (8.5%). Six donors (8.5%) had major multi-class resistance (Tables 2 & 3).
*Conclusions: ART resistance is relatively common in this population. However, because INSTI medications are considered the backbone of current ART, the low incidence of INSTI resistance suggests that clinicians should have many post-transplant ART regimen options for recipients, even if donor resistance profiles are unknown before donation.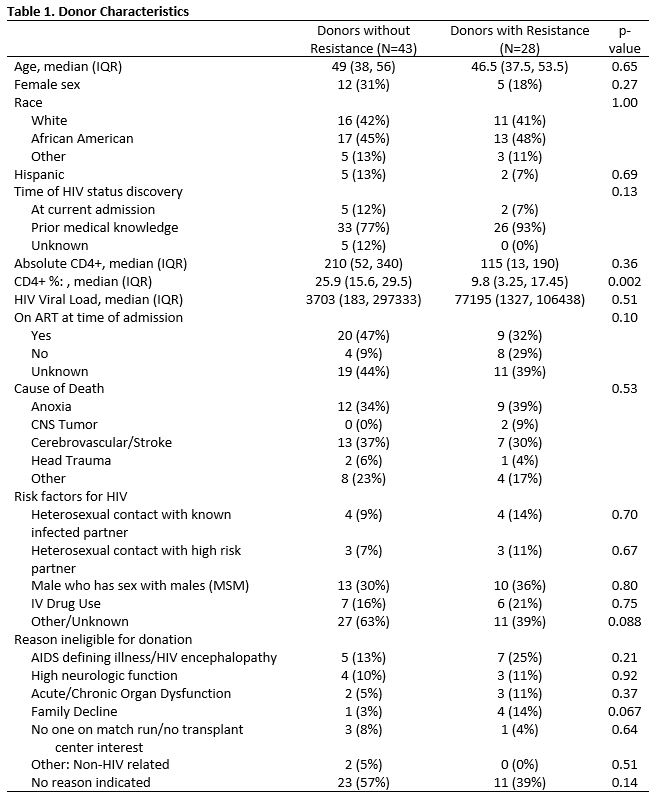 To cite this abstract in AMA style:
Barnaba B, Werbel W, Kusemiju O, Kirby C, Eby Y, Fernandez R, Miller J, Redd A, Segev D, Tobian A, Durand C. HIV Resistance among HOPE Donor Referrals [abstract].
Am J Transplant.
2019; 19 (suppl 3). https://atcmeetingabstracts.com/abstract/hiv-resistance-among-hope-donor-referrals/. Accessed July 24, 2021.
« Back to 2019 American Transplant Congress