Session Information
Session Time: 6:00pm-7:00pm
Presentation Time: 6:30pm-6:35pm
Location: Virtual
*Purpose: Clinical pharmacists have unique education and training to identify and mitigate medication (med) safety issues in high-risk populations, such as kidney transplant (KTX). The primary aim of the TRANSAFE Rx study was to assess the efficacy of a pharmacist-led, mHealth-based intervention at improving med safety issues in KTX, as compared to usual care.
*Methods: This was an a priori planned secondary analysis of detailed interventions and risk assessments that occurred during a 12-month, parallel arm, 1:1 randomized controlled clinical trial in adult KTX 6 to 36 months post-transplant (NCT03247322). This intervention previously demonstrated reduced hospitalizations and adverse drug events. All patients received usual post-transplant care, while those randomized to the intervention arm received supplemental clinical pharmacist-led medication therapy monitoring and management, via a smartphone-enabled mHealth app, integrated with risk-based televisits and home-based blood pressure and blood glucose monitoring. The clinical pharmacist conducted weekly risk assessments and recorded both pharmacological and nonpharmacological interventions performed throughout the study.
*Results: 136 patients were enrolled, 68 were randomized in the intervention arm and included in this secondary analysis. The mean age at baseline was 50.2 years, 51.5% of patients were male and 58.8% were black. The primary etiologies of ESRD were hypertension (92.6%) and diabetes (27.9%); 85.3% of patients were on dialysis at time of transplant. During the 12-month follow-up, the most common pharmacist intervention types included medication reconciliation (N=213) and patient education (N=144, Figure 1). Medication alterations, including additions, deletions, dose adjustments, schedule changes, interval changes, and dosage form changes, were also common. Medication reconciliation, study technology-related issues, prescription refills, and facilitating medication access largely remained consistent throughout the 12-month study period, while patient education and medication changes trended downward from Month 1 to Month 12 (Figure 2). From baseline to end-of-study, we observed an approximately 15% decrease in high-risk patients and a corresponding 15% increase in medium or low-risk patients (Figure 3).
*Conclusions: A pharmacist-led mHealth based intervention may increase opportunities for both pharmacological and nonpharmacological interventions and reduce the number of high-risk patients in the KTX population.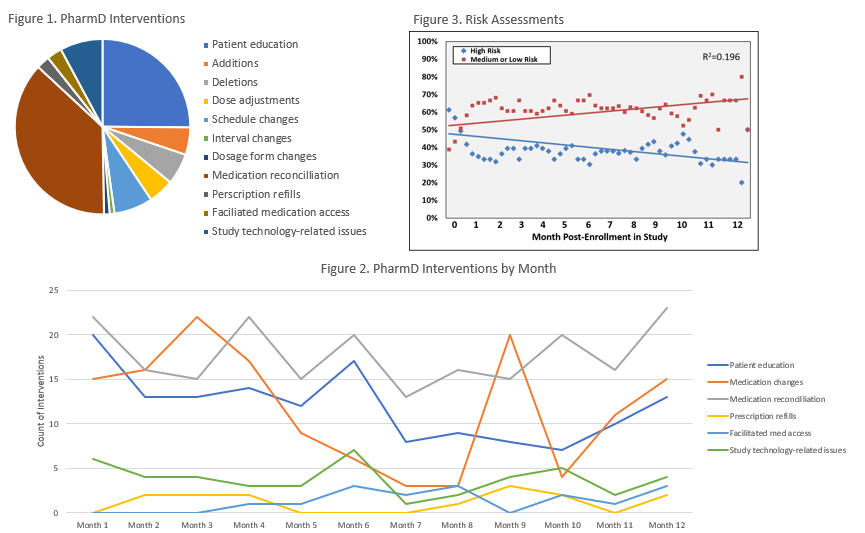 To cite this abstract in AMA style:
Gonzales HM, Fleming JN, Taber DJ. Frequency and Types of Pharmacist Interventions and Risk Assessments Occurring During the 12-Month Transafe Rx Randomized Controlled Trial [abstract].
Am J Transplant.
2021; 21 (suppl 3). https://atcmeetingabstracts.com/abstract/frequency-and-types-of-pharmacist-interventions-and-risk-assessments-occurring-during-the-12-month-transafe-rx-randomized-controlled-trial/. Accessed September 25, 2021.
« Back to 2021 American Transplant Congress