Evaluation of Sexual Functions in Females Receiving Renal Replacement Therapies
Urology, Ondokuz Mayis University, Faculty of Medicine, Samsun, Turkey
Nephrology, Ondokuz Mayis University, Faculty of Medicine, Samsun, Turkey
Meeting: 2013 American Transplant Congress
Abstract number: A805
Introduction & objectives:
We aimed to determine the factors affecting changes in sexual function by comparing the sexual functions of a female kidney transplant recipient (KTR) population with a female end stage renal disease (ESRD) population who were on hemodialysis (HD).
Materials & methods:
Total of 46 female patients, 23 female KTRs and 23 HD patients were evaluated. The study enrolled patients who may be sexually active, had achieved stability following renal transplantation (RT), is not diabetic and has no genital anatomic deformity, previous pelvic surgery history or severe psychiatric disorder. Sexual functions were assessed by Female Sexual Function Index (FSFI) questionnaire.
Results:
Mean age was 39.3±5.2 and 37.04±4.7 years in the KTR and ESRD groups, respectively (P=0.130). No difference was observed between clinical and laboratory parameters. FSFI scores were 36.3±6.7 and 17.7±4.2 in the RT and ESRD group, respectively (P=0.001). FSFI full scale scoring was superior in all parameters in the KTRs group.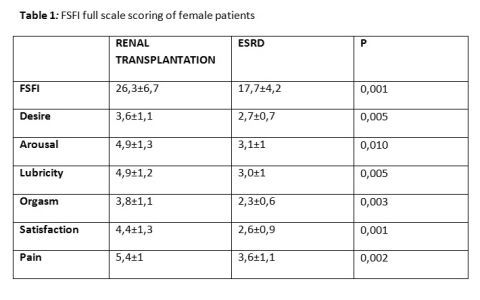 When comparison was made with regards to FSFI scores between patients who underwent RT, it was ≥26 in 14 and <26 in 9 women. Mean age was 36.7±5 years in group with FSFI≥26 and it was 43.2±2.2 years in group with FSFI<26 (P=0.001). Mean duration of dialysis therapy was 31.2±46.8 months in the group with FSFI≥26 and it was 66.6±18.1 months in the group with FSFI<26 (P=0.001). 83.3% of patients had FSFI≥26 and 16.7% had FSFI<26 in the living donor group. In the cadaveric donor group, 36.3% had FSFI ≥26 and 63.7% had FSFI<26 (P = 0.029).
Conclusion:
It was found that the frequency of sexual dysfunction was higher in patients who had pre-transplantation hemodialysis for longer time. It is believed that renal transplantation performed in the early period of ESRD will reduce frequency of sexual dysfunction in the post-transplantation period.
To cite this abstract in AMA style:
Demir R, Bostanci Y, Atac F, Ozden E, Kaya C, Sarikaya S, Yakupoglu Y. Evaluation of Sexual Functions in Females Receiving Renal Replacement Therapies [abstract].
Am J Transplant.
2013; 13 (suppl 5). https://atcmeetingabstracts.com/abstract/evaluation-of-sexual-functions-in-females-receiving-renal-replacement-therapies/. Accessed May 6, 2021.
« Back to 2013 American Transplant Congress