Evaluation of Humoral (HI) & Cell-Mediated Immune (CMI) Responses to Trivalent Influenza Vaccine (TIV) Administered Early after Solid-Organ Transplantation (SOT)
NYU Langone Medical Center, New York
Cincinnati Children's Hospital Medical Center, Cincinnati
Johns Hopkins School of Medicine, Baltimore
University of Rochester Medical Center, Rochester
Cleveland Clinic Foundation, Cleveland
Meeting: 2013 American Transplant Congress
Abstract number: A590
Background:
Vaccination earlier than 3 months post SOT is felt to be safe but data on vaccine efficacy in this setting is lacking. We evaluated HI & CMI response to TIV given at <3 months (mos) from SOT.
Methods:
Consented adults (≥ 18 years) & children (≥ 3 years) still unvaccinated for the 2011-12 flu season & at <3 mos from SOT were included. TIV for season 2011-12 (A/H1N1/2009, A/H2N3/Perth/16/0/09 & B/Brisbane/60/08) was given with baseline blood draw at visit 1.Subsequent tests were done at 3-5 wk (visit 2) & 2-3 mos (visit 3). Booster TIV was offered at visit 3 with repeat blood draws at 3-5 wks (visit 4) & 2-3 mos (visits 5). HI testing was by serum hemagglutination inhibition (HAI) with response defined as >4-fold rise in HAI titer from baseline. CMI was measured by ELISPOT for TIV interferon gamma (IFN-Γ) production with response defined as a >2 fold rise in IFN-Γ spots/200,000 PBL.
Results:
Subjects included 1 pediatric (age 12 years), 5 adults (median age: 60 years, range: 39-70); 3 kidney, 1 heart & 2 liver transplants. Induction therapy consisted of basiliximab (3/6), thymoglobulin (1/6), TOL101 (1/6) & none (1/6). Median time from SOT to TIV was 12.5 days (5-99). Five subjects received boosters. For all, A/H1N1 response was more robust than A/H3N2 or B. A/H1N1 response occurred in 2/6 after primary TIV and 3/5 after booster dose. Seroprotective HAI titers were present for 5/6 subjects. CMI and HI response correlated for only one subject (no induction). No rejection occurred during the study.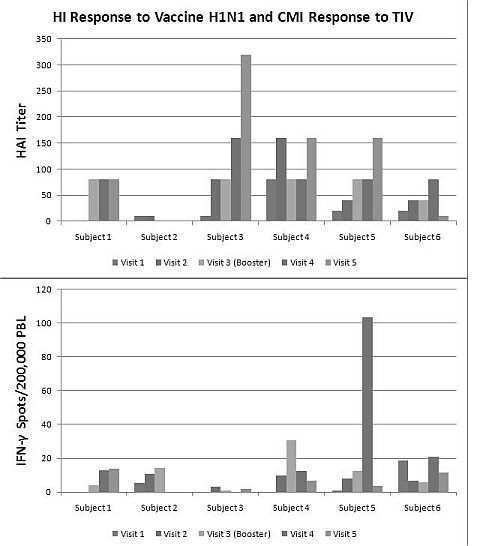 Conclusions:
Response to TIV was limited but better than expected when given < 3 mos after SOT. It is unclear whether early vaccination + booster is better than delaying TIV to after 3 mos in SOT recipients. Given small sample size definitive conclusions cannot be made but further study is required.
To cite this abstract in AMA style:
Taimur S, Danziger L, Avery R, Fitzgerald T, Poggio E, Koval C. Evaluation of Humoral (HI) & Cell-Mediated Immune (CMI) Responses to Trivalent Influenza Vaccine (TIV) Administered Early after Solid-Organ Transplantation (SOT) [abstract].
Am J Transplant.
2013; 13 (suppl 5). https://atcmeetingabstracts.com/abstract/evaluation-of-humoral-hi-cell-mediated-immune-cmi-responses-to-trivalent-influenza-vaccine-tiv-administered-early-after-solid-organ-transplantation-sot/. Accessed May 7, 2021.
« Back to 2013 American Transplant Congress