Session Information
Session Time: 5:30pm-6:30pm

Presentation Time: 5:30pm-6:30pm
Location: Exhibit Hall E
Eosinophilic gastrointestinal disease (EGID) has been associated with immunosuppression use in solid organ transplant recipients. However, its relationship to the post-transplant clinical course is unknown. We sought to characterize features of liver (LT) and kidney transplant (KT) recipients with EGID.
Methods: Retrospective review of all KT and LT performed at our institution from 1997-2014. A pathology information system search allowed identification of patients with EGID disease. Eosinophilic esophagitis (EE) was defined as the presence of ≥ 20 eosinophils/HPF; eosinophilic gastritis (EG) or colitis (EC) was established when the number of lamina propria eosinophils was markedly increased, with degranulation and eosinophilic cryptitis.
Results: During the study period 301 liver and 333 kidney transplants were performed. 18 subjects with EGID were identified(13 LT and 5 KT).
LT: Median age at transplant was 1.2 yrs(0.6-3.4), and 38% were male. Median time from transplant to diagnosis of EGID was 1.2yrs(0.5-3.6). Seven subjects did not report symptoms after the initial endoscopy and were not treated or were lost to follow up. All treated patients (n=6) had a histologic response. 11 subjects had an episode of acute rejection, with 9 instances occurring a mean of 4.5 months prior to the diagnosis of EGID and treated with increasing immunosuppression.
KT: Median age at transplant was 1.94yrs (1.6-9.4) and all were male. Median time from transplant to diagnosis of EGID was 1.5yrs(0.8-9.3). 50% had histologic response to EGID therapy. All 5 subjects had rejection and in 2 cases occurred prior to the diagnosis of EGID with a mean of 50 months. Rejection was treated with increasing immunosuppression
Summary: In this preliminary analysis of LT and KT recipients with EGID, a majority had a preceding episode of allograft rejection. Elimination diet therapy was successful, however many subjects did not undergo therapy or repeat biopsies. Whether EGID is caused solely by immunosuppression changes or due to genetic predisposition is unclear and requires further analysis.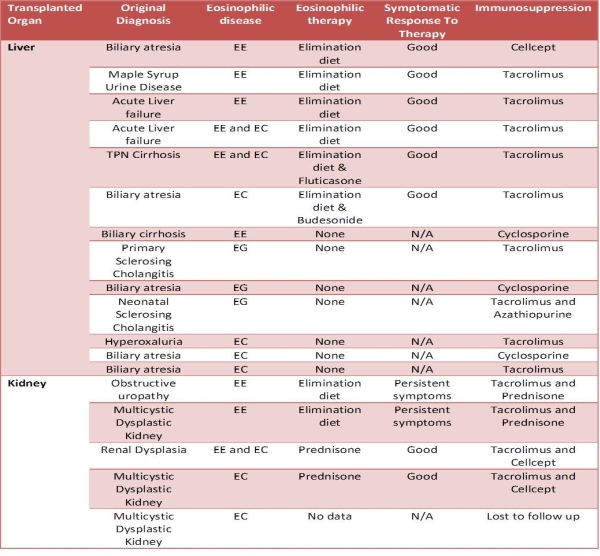 To cite this abstract in AMA style:
Mohammad S, Bush J, Amsden K, Kagalwalla A, Melin-Aldana H, Arva N. Eosinophilic Gastrointestinal Disease in Pediatric Liver and Kidney Transplant Recipients [abstract].
Am J Transplant.
2015; 15 (suppl 3). https://atcmeetingabstracts.com/abstract/eosinophilic-gastrointestinal-disease-in-pediatric-liver-and-kidney-transplant-recipients/. Accessed December 1, 2023.
« Back to 2015 American Transplant Congress