Eculizumab (Anti-C5) for Treatment of Severe Antibody-Mediated Rejection (ABMR) and Recurrent C3 Glomerulonephritis in Renal Allografts: A Single Center Experience
Comprehensive Transplant Center, Cedars-Sinai Medical Center, Los Angeles, CA
Meeting: 2013 American Transplant Congress
Abstract number: B999
INTRODUCTION: ABMR is a severe form of allograft injury mediated, primarily, by antibody-induced complement activation. Complement activation through the alternate pathway may also result in glomerular injury. Eculizumab (anti-C5) is an important therapeutic tool that has shown promise in the prevention of ABMR and transplant glomerulopathy (TG). However, only case reports exist on the efficacy of Eculizumab in treatment of established ABMR. Eculizumab is effective in treatment of atypical HUS suggesting similar results would be anticipated in treatment of ABMR. Here we examined outcomes of patients treated with Eculizumab for ABMR and recurrent C3 glomerulonephritis (C3-GN). PATIENTS &METHODS: Six patients with severe ABMR and one with recurrent C3-GN were treated with 2-4 doses of Eculizumab (initial dose 1200mg followed by 900mg weekly up to 4 doses) after failure of IVIG + rituximab and PLEX. Some patients had repeat biopsies after completion of Eculizumab therapy and DSA monitoring. Graft and patient survival, renal function and infectious complications were recorded. RESULTS: The results are summarized below: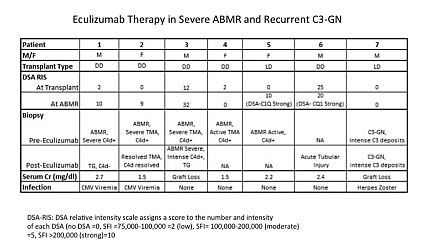 Briefly, 6 patients with biopsy proven (5) or presumed (1) severe ABMR were treated with Eculizumab as was 1 patient with recurrent C3-GN. Three patients responded to Eculizumab therapy with stabilization of SCr. Repeat biopsy showed resolution of TMA in one SCr 1.7mg/dl, ATN C4d- with SCr 2.4mg/dl in a second and significant TG in a third, SCr 2.7mg/dl at 1 year. Another patient did not respond and lost his graft. The patient with recurrent C3-GN was unresponsive and lost his graft. Two others are still being evaluated. CONCLUSIONS: Response of severe ABMR episodes or recurrent C3-GN to Eculizumab rescue therapy varied. Two graft losses were seen and one patient has severe TG with SCr 2.7mg/dl at 1 year. Repeat biopsies in 3 patients with ABMR showed significant improvement in two while the other showed worsening ABMR with allograft loss. Three patients experienced viral infections (2 CMV viremia and 1 HZ).
To cite this abstract in AMA style:
Jordan S, Choi J, Villicana R, Peng A, Kahwaji J, Najjar R, Vo A. Eculizumab (Anti-C5) for Treatment of Severe Antibody-Mediated Rejection (ABMR) and Recurrent C3 Glomerulonephritis in Renal Allografts: A Single Center Experience [abstract].
Am J Transplant.
2013; 13 (suppl 5). https://atcmeetingabstracts.com/abstract/eculizumab-anti-c5-for-treatment-of-severe-antibody-mediated-rejection-abmr-and-recurrent-c3-glomerulonephritis-in-renal-allografts-a-single-center-experience/. Accessed May 7, 2021.
« Back to 2013 American Transplant Congress