Developing a Patient Specific Search: Feedback from Kidney Transplant Candidates and Recipients
1Nephrology, Hennepin Healthcare Research Institute, Minneapolis, MN, 2College of Design, University of Minnesota, St. Paul, MN, 3Scientific Registry of Transplant Recipients, Hennepin Healthcare Research Institute, Minneapolis, MN, 4Department of Surgery, University of Minnesota, Minneapolis, MN, 5Department of Medicine, Hennepin Healthcare, Minneapolis, MN
Meeting: 2019 American Transplant Congress
Abstract number: D181
Keywords: Kidney, Kidney transplantation, Patient education, Risk factors
Session Information
Session Time: 6:00pm-7:00pm
Presentation Time: 6:00pm-7:00pm
Location: Hall C & D
*Purpose: Patients in need of kidney transplantation face numerous obstacles when identifying a transplant center for treatment. Acceptance criteria, waiting time, and post-transplant allograft survival vary by OPTN region and center. We sought to evaluate patients' and families' impressions of prototypes of program reports that provide users with patient-specific information.
*Methods: We conducted 20 interviews and 13 focus groups with local kidney transplant candidates and their families plus 3 focus groups with recipients of kidney transplants recruited nationally (89 individuals). Participants were shown printouts of the website for the Scientific Registry of Transplant Recipients (SRTR) and prototypes of the customizable search tool to evaluate the efficacy of reporting patient-specific search results for identifying transplant centers that treat patients like them. [Figures 1 and 2]
*Results: Perceptions of prototypes of the customized search tool and results varied, but were positive overall and support adding a customized tool to the SRTR website. [Table 1] Participants' comments reveal significant barriers to identifying and evaluating transplant centers and suggest that patient-specific search results reduce cognitive burden and anxiety when selecting a center and accessing the waitlist.
*Conclusions: Patient-specific information (shown alongside quality metrics) is important to maximizing access to transplant and supporting patient decisions.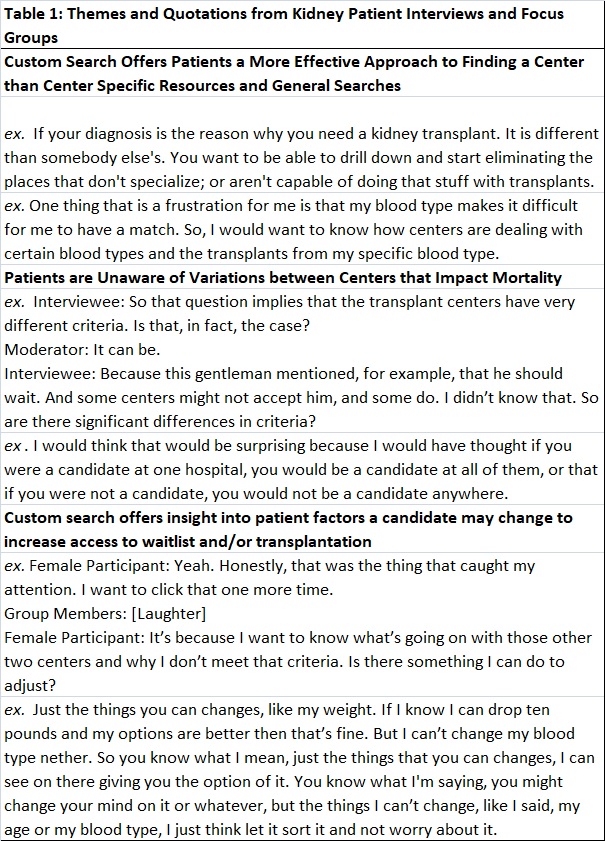 To cite this abstract in AMA style:
McKinney WT, Bruin MJ, Schaffhausen CR, Chu S, Snyder J, Matas A, Kasiske B, Israni AK. Developing a Patient Specific Search: Feedback from Kidney Transplant Candidates and Recipients [abstract].
Am J Transplant.
2019; 19 (suppl 3). https://atcmeetingabstracts.com/abstract/developing-a-patient-specific-search-feedback-from-kidney-transplant-candidates-and-recipients/. Accessed April 18, 2021.
« Back to 2019 American Transplant Congress