Depletion of Both Recipient and Donor Foxp3+ Cells Can Break Tolerance of Skin or Heart Allografts Induced by Mixed Chimerism in Mice
Transplant Center, Massachusetts General Hospital, Boston, MA
Department of Pathology, Massachusetts General Hospital, Boston, MA
Meeting: 2013 American Transplant Congress
Abstract number: B1113
Donor-specific transplant tolerance has been achieved by induction of mixed chimerism in both mice and humans and evidence for both deletion and regulation exists. To address the role of regulatory T cells in the mouse, we employed the C57/B6.Foxp3DTR+/y strain that allows for the specific depletion of Foxp3+ cells by diphtheria toxin (DT).
DBA/2 mice were bred to C57/B6.Foxp3DTR+/+ and bone marrow (BM) from these H2d/b F1 mice was transplanted into recipients, treated with 3 Gy TBI and mAb to CD4, CD8 and CD154. Three groups were created: A, male F1 to C57/B6.Foxp3DTR+/y; B, male F1 to male wild type B6; and C, female F1 to C57/B6.Foxp3DTR+/+. Skin and heart transplants from sex-matched DBA/2 were then performed in each mouse 5 weeks and 12-19 weeks after BM transplant, respectively, followed by 2 doses of DT treatment (50 Μg/kg) 4 weeks after heart transplant. Viability of the skin and heart grafts and peripheral blood chimerism were monitored.
Substantial Foxp3+ cell depletion in Group A (n=8), in which both donor and recipient carried the Foxp3DTR knock- in gene, resulted in the rejection of 7 and 6 skin and heart allografts, respectively, 41 days after DT treatment (figure1). In Group C (n=7), in which the donor BM was heterozygous for the Foxp3DTR knock-in, blood Foxp3 depletion never exceeded more than 50% and skin and heart grafts survived greater than 89 days. In Group B (n=2), only the donor Foxp3+ cells carried the Foxp3DTR knock-in, and no rejection of skin and heart grafts was observed. In all groups mixed chimerism was maintained.
This study provides new evidence that maintenance of tolerance of skin or organ allografts in murine mixed chimerism depends on Foxp3+ cells, and can be maintained by either donor or recipient Foxp3+ cells. Mixed chimerism itself, in contrast, is robustly resistant to Foxp3+ cells depletion. These results suggest that regulatory mechanisms are important in mixed chimerism in mice.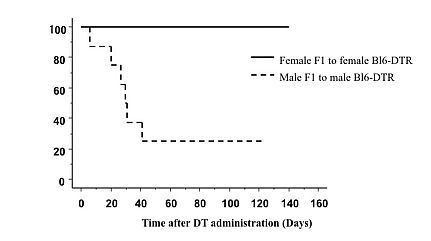 To cite this abstract in AMA style:
Shinoda K, Akiyoshi T, Chase C, Farkash E, Russell P, Madsen J, Colvin R. Depletion of Both Recipient and Donor Foxp3+ Cells Can Break Tolerance of Skin or Heart Allografts Induced by Mixed Chimerism in Mice [abstract].
Am J Transplant.
2013; 13 (suppl 5). https://atcmeetingabstracts.com/abstract/depletion-of-both-recipient-and-donor-foxp3-cells-can-break-tolerance-of-skin-or-heart-allografts-induced-by-mixed-chimerism-in-mice/. Accessed April 20, 2021.
« Back to 2013 American Transplant Congress