Session Information
Session Time: 4:30pm-5:30pm
Presentation Time: 5:05pm-5:10pm
Location: Virtual
*Purpose: COVID-19 infection is associated with 25% mortality in kidney transplant recipients (KTRs). Reduction of anti-metabolite immunosuppressants during the acute COVID-19 illness is a common approach in managing KTRs. This potentially increases the risk of allograft rejection in the setting of reduced immunosuppression. The optimal timing for safe reintroduction of immunosuppression remains unclear. Here we describe a novel approach of incorporating dd-cfDNA to safely titrate immunosuppression in patients with COVID-19.
*Methods: KTRs were monitored prospectively with dd-cfDNA beginning at the time of COVID-19 diagnosis or on discharge from acute care. If dd-cfDNA<1%, antimetabolite dosing was increased by 25% every two weeks. If dd-cfDNA>1% or a rapid relative change from baseline, antimetabolites were reintroduced at full dose provided the patient remained symptom free from COVID-19.
*Results: 58 KTRs (including 1 PAK) with COVID-19 infection were monitored with dd-cfDNA at the time of or following this diagnosis from March 2020 to January 2021. Demographics and directed treatments are summarized in Table 1. Median dd-cfDNA levels remained stable during longitudinal surveillance following COVID-19 (Figure 1A). 3/58 patients with COVID-19 and dd-cfDNA results available developed biopsy-proven rejection. One developed rejection at the time of COVID-19 diagnosis with elevated dd-cfDNA. 2/58 developed rejection in the setting of delayed re-introduction of antimetabolites due to clinical concerns (Figure 1B), however one did not have elevated dd-cfDNA. 10% of patients (n=6) had accelerated reintroduction of anti-metabolites due to dd-cfDNA levels>1% or rapid deviation from baseline. None of these patients developed rejection in the following months and dd-cfDNA levels decreased after immunosuppression reintroduction. Standard reintroduction of anti-metabolites with dd-cfDNA <1% was achieved with no associated episodes of rejection.
*Conclusions: dd-cfDNA presents a feasible adjunctive biomarker to guide immunosuppression titration in KTRs with confirmed COVID-19 and avoid allograft rejection during a time of increased immunological risk.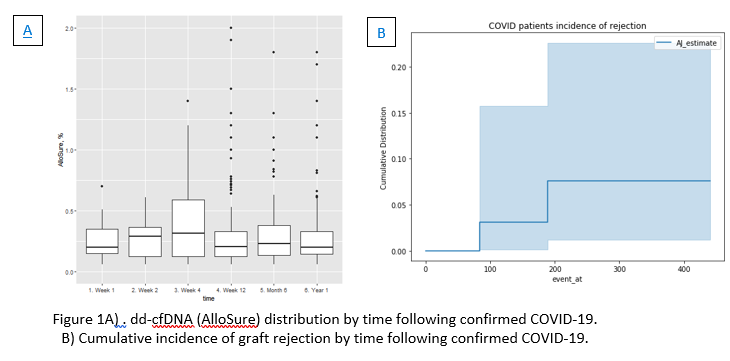 To cite this abstract in AMA style:
Miles J, Leonard J, Tatapudi V, Fei M, Montgomery R, Ali NM. Dd-cfdna Can Guide Safe Reintroduction of Immunosuppression in Kidney Transplant Recipients with Covid-19 [abstract].
Am J Transplant.
2021; 21 (suppl 3). https://atcmeetingabstracts.com/abstract/dd-cfdna-can-guide-safe-reintroduction-of-immunosuppression-in-kidney-transplant-recipients-with-covid-19/. Accessed September 24, 2021.
« Back to 2021 American Transplant Congress