Covid vs Non Covid Pneumonia in Kidney Transplant Recipients
R. Prashar, N. Khoury, P. Shrivastava, S. Yeddula, T. Kitajima, E. Ulrich, M. Ramesh, A. Patel, S. Nagai, M. Samaniego-Picota
Henry Ford Hospital, Detroit, MI
Meeting: 2021 American Transplant Congress
Abstract number: 756
Keywords: Immunosuppression, Kidney, Outcome, Pneumonia
Topic: Clinical Science » Infectious Disease » All Infections (Excluding Kidney & Viral Hepatitis)
*Purpose: Compare clinical characteristics and outcomes in kidney transplant recipients (KTRs) hospitalized with COVID vs Non COVID Pneumonia.
*Methods: This is a retrospective case‐control study examining epidemiologic, laboratory and clinical characteristics of KTRs hospitalized with COVID vs Non COVID pneumonia. Cases were determined by consecutive KTRs diagnosed with COVID-19 from March 20, 2020 through April 25, 2020. Data were censored on April 30th, 2020. 39 patients had COVID, 11 were excluded because they did not have pneumonia. All patients with pneumonia were hospitalized. Controls were determined by searching the EMR for hospital admissions by diagnosis codes for pneumonia and kidney transplant status from January 1,2019 to October 30, 2019. 49 patients were identified, out of which 22 were excluded due to misclassification of pneumonia, dual organ transplantation and failed kidney transplant. Primary end point was progression to respiratory failure requiring mechanical ventilation, ICU admission or in‐hospital all‐cause mortality. Secondary end points were ARDS, shock and AKI requiring RRT.
*Results: Demographics, comorbidities and laboratory findings in 28 KTRs with COVID and 27 KTRs with Non COVID pneumonia are shown in :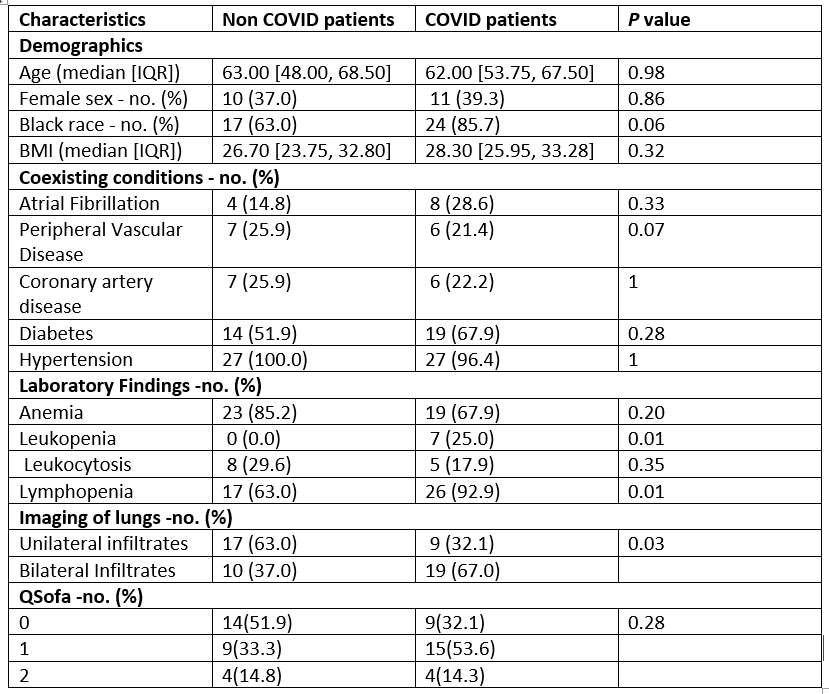 Patients with COVID pneumonia were more likely to be leukopenic, lymphopenic and present with bilateral infiltrates. KTRs with COVID were more likely to be black. (trend towards significance p=0.058).
Outcomes are summarized in :
KTRs with COVID pneumonia had higher odds of death (OR=6.94), ICU admission (OR=4.44), developing ARDS(OR=22.53) and shock(OR=5.92) as compared to KTRs with Non-COVID pneumonia.
*Conclusions: KTRs with COVID 19 pneumonia present with more leukopenia, lymphopenia , bilateral infiltrates , and tend to have higher mortality , ICU admission, ARDS and shock as compared to non COVID pneumonia. These results help us have a higher index of suspicion for COVID-19 pneumonia in KTRs who present with leukopenia, lymphopenia and bilateral infiltrates, in the setting of negative RT-PCR (95% sensitivity)or in KTRs in whom results are still awaited, so that timely treatment can be provided.
To cite this abstract in AMA style:
Prashar R, Khoury N, Shrivastava P, Yeddula S, Kitajima T, Ulrich E, Ramesh M, Patel A, Nagai S, Samaniego-Picota M. Covid vs Non Covid Pneumonia in Kidney Transplant Recipients [abstract].
Am J Transplant.
2021; 21 (suppl 3). https://atcmeetingabstracts.com/abstract/covid-vs-non-covid-pneumonia-in-kidney-transplant-recipients/. Accessed September 23, 2021.
« Back to 2021 American Transplant Congress