Covid-19 in Solid Organ Transplantation (SOT): Results of the National Covid Cohort Collaborative (N3C)
G. Agarwal1, A. Vinson2, R. Dai3, E. French4, S. Lee5, A. Olex4, A. Anzalone6, V. Madhira7, R. B. Mannon8
1Medicine, University of Alabama at Birmingham, Birmingham, AL, 2Medicine/Nephrology, Nova Scotia Health Authority, Halifax, NS, Canada, 3Biostatistics, University of Nebraska Medical Center, Omaha, NE, 4Wright Center for Clinical and Translational Research, VIrginia Commonwealth University, Richmond, VA, 5Medicine/Infectious Disease, University of Saskatchewan, Saskatoon, SK, Canada, 6Neurology, University of Nebraska Medical Center, Omaha, NE, 7Palia Software, Not sure, OR, 8Medicine/Nephrology, University of Nebraska Medical Center, Omaha, NE
Meeting: 2021 American Transplant Congress
Abstract number: 126
Keywords: Infection, Morbidity, Outcome, Renal failure
Topic: Clinical Science » Infectious Disease » All Infections (Excluding Kidney & Viral Hepatitis)
Session Information
Session Time: 4:30pm-5:30pm

Presentation Time: 5:05pm-5:10pm
Location: Virtual
*Purpose: SARS-CoV-2 infection has resulted in significant mortality in solid organ transplant (SOT) recipients based on reports from single centers or voluntary registries. The N3C Enclave was developed to facilitate analysis of patient-level data across the US for multiple conditions, consisting of weekly electronic medical record (EMR) data extraction and transmission into a federally secured platform. Herein is our report of the largest cohort of US COVID-19 positive SOT patients to date.
*Methods: We identified a cohort of SOT recipients who received a positive or negative COVID-19 test (COVID+ and COVID–, respectively) between 01/01/2020 and 11/23/2020. In COVID+ SOT, we evaluated outcomes including requirement for hospitalization, major adverse cardiac events (MACE), and graft rejection and failure occurring until study end. Significant differences between COVID+ and COVID– patients were identified using t-test and chi-square testing, as indicated.
*Results: 34 sites account for 2.15 million patients in the Enclave, of whom 292,226 are COVID+. We identified 19,031 SOT patients, of whom 2,183 were COVID+ (11.5%) with a median follow-up time of 119 days. Demographics are shown in Figure 1. Compared to COVID– SOT patients, COVID+ SOT patients were more likely to have a kidney transplant and be non-white or Hispanic. Hypertension, diabetes, coronary artery disease and chronic kidney disease were common comorbidities in all SOT, but significantly more common in those who were COVID+. Of COVID+ SOT, 51.8% required hospital admission for a median of 1 days (range 0-114). Following COVID diagnosis, 13.7% of COVID+ SOT patients experienced MACE, 3.8% had graft rejection and 3.4% had graft loss over the study period.
*Conclusions: In the largest US cohort of COVID+ SOT recipients to date, we identify patient factors associated with the diagnosis of COVID-19 and outcomes following infection including a relatively high incidence of MACE. This is an evolving dataset and provides novel opportunities for analyses of COVID in SOT recipients on a granular level.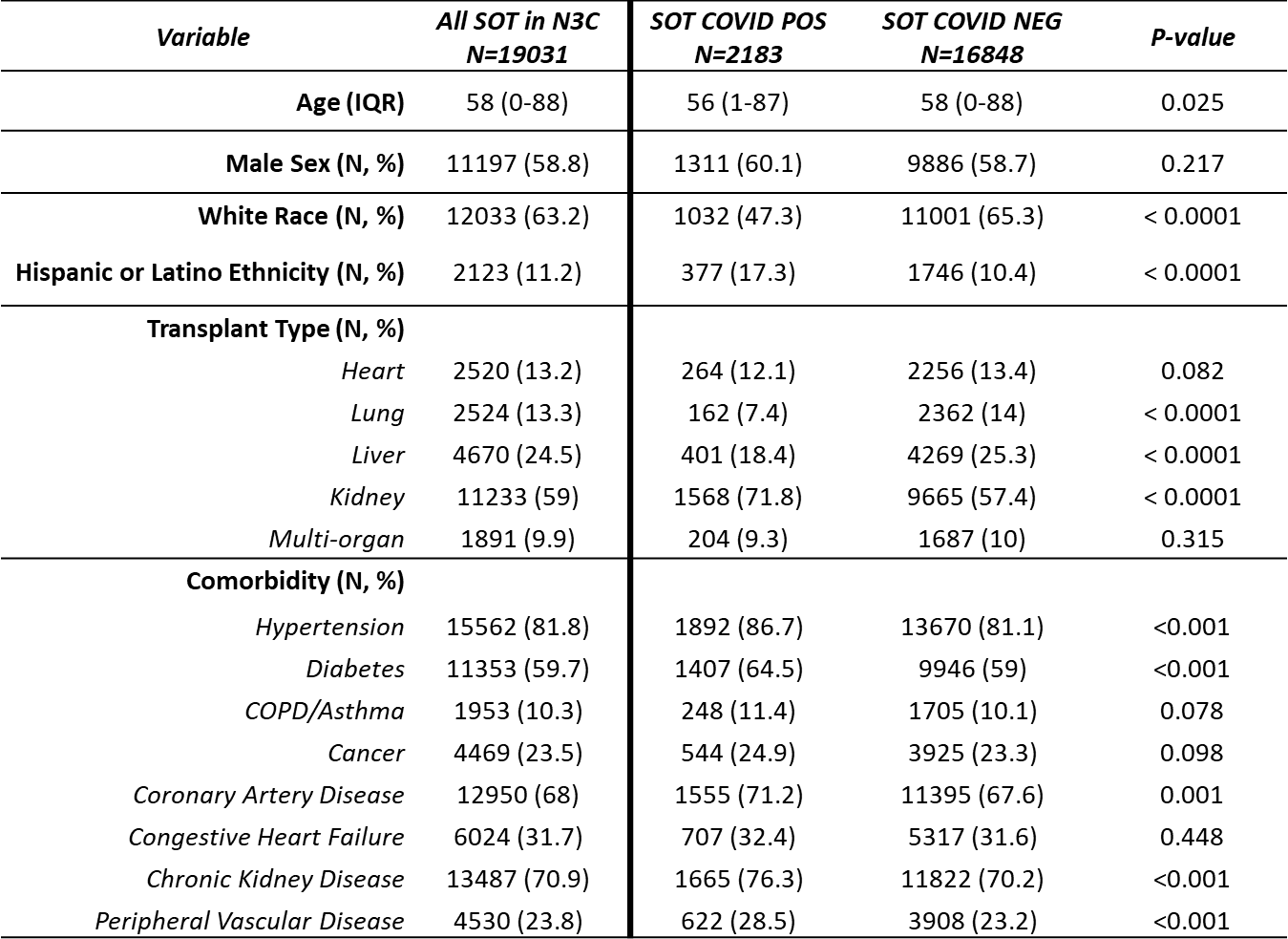 To cite this abstract in AMA style:
Agarwal G, Vinson A, Dai R, French E, Lee S, Olex A, Anzalone A, Madhira V, Mannon RB. Covid-19 in Solid Organ Transplantation (SOT): Results of the National Covid Cohort Collaborative (N3C) [abstract].
Am J Transplant.
2021; 21 (suppl 3). https://atcmeetingabstracts.com/abstract/covid-19-in-solid-organ-transplantation-sot-results-of-the-national-covid-cohort-collaborative-n3c/. Accessed February 3, 2023.
« Back to 2021 American Transplant Congress