Session Information
Session Time: 6:00pm-7:00pm

Presentation Time: 6:00pm-7:00pm
Location: Hall C & D
*Purpose: When used for acute rejection (AR), ATG is generally administered in the inpatient setting, given the need for intravenous (IV) access, risk of infusion-related side effects, laboratory monitoring, and consecutive day administration. Herein, we report preliminary results of a trial evaluating a continuous ATG infusion over 24 hours in an effort to reduce inpatient length of stay (LOS).
*Methods: Patients requiring ATG (Thymoglobulin®) for treatment of biopsy-proven AR were randomized 1:1 to receive either a 24-hour continuous infusion (CI) of ATG 6 mg/kg, or 4 daily infusions (DI) of 1.5 mg/kg, each over 6 hours. Patients with concomitant antibody mediated rejection (AMR) were excluded. The primary endpoint of the study was LOS following initiation of ATG, and secondary endpoints including renal function, readmission, infections, and rejection resolution were captured for 6 months post-treatment.
*Results: To date 21 of a planned 30 patients have been randomized, 9 to the CI group and 12 to the DI group. One CI patient who tolerated the infusion well was later diagnosed with AMR on the original biopsy and required additional AMR treatment; they were therefore excluded from the remaining analyses. Baseline characteristics of the remaining 20 patients are shown in Table 1. LOS post-ATG initiation was significantly shorter for CI patients (2.4 vs. 3.7 days; p=0.03). Overall, ATG infusions were well tolerated in both groups. One CI patient experienced vomiting requiring anti-emetics and discontinuation of infusion after 75% of the dose. One DI patient experienced chills, chest tightness and indigestion requiring temporary lowering of the infusion rate. No other infusion reactions were noted and vital signs were similar between groups. Clearance of rejection on post-treatment biopsy was observed in 71.4% and 66.7% of CI and DI patients (p=0.84) and no differences were seen in other post-treatment outcomes (Table 2), hematologic parameters (Figure 1) or serum creatinine levels (Figure 2).
*Conclusions: Our preliminary experience suggests that continuous infusion ATG over 24 hours for AR is effective, feasible and reduces LOS compared to daily administration.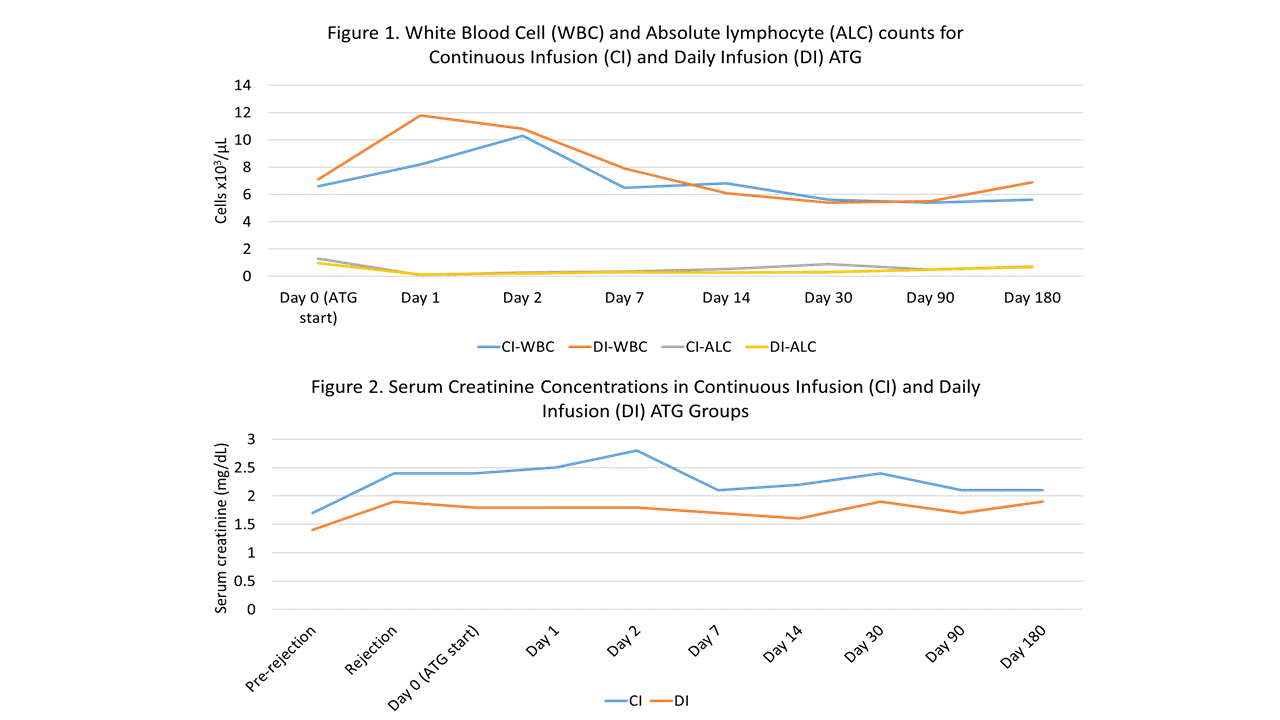 To cite this abstract in AMA style:
Patel SJ, Kuten S, Knight R, Nolte-Fong J, Nguyen D, Graviss E, Gaber A. Continuous 24-Hour vs. Daily Antithymocyte Globulin (ATG) Infusions for Treatment of Renal Allograft Rejection: Preliminary Results of a Prospective Trial [abstract].
Am J Transplant.
2019; 19 (suppl 3). https://atcmeetingabstracts.com/abstract/continuous-24-hour-vs-daily-antithymocyte-globulin-atg-infusions-for-treatment-of-renal-allograft-rejection-preliminary-results-of-a-prospective-trial/. Accessed August 10, 2022.
« Back to 2019 American Transplant Congress