Combined Induction Therapy with Rabbit Antithymocyte Globulin (rATG) and Rituximab (RTX) in Highly Sensitized Kidney Recipients: Long-Term Outcomes
Surgery, SUNY at Buffalo, Buffalo, NY
Medicine, SUNY at Buffalo, Buffalo, NY
Meeting: 2013 American Transplant Congress
Abstract number: C1342
Despite the use of T cell depleting induction therapy, the incidence of acute humoral (AMR) and cellular (ACR) rejection remains high and the graft survival is lower in highly sensitized renal transplant recipients (HSRTR). Given the increasing importance of B cells in provoking rejection and de-novo donor specific antibodies (dnDSA), we explored the effect of combining T and B cell depletion in HSRTR with PRA levels of >80% receiving a compatible renal transplant. Fourteen HSRTR were treated with rATG (5-7 mg/kg total) plus RTX (2 doses of 375 mg/M2 in month 1). Twenty-three HSRTR received rATG alone. Patient and donor demographics, adverse events and maintenance immunosuppression were equivalent. Although 5 year patient survival was equivalent in both groups, graft survival was significantly better in the rATG+RTX group (92% vs. 43%, p<0.01). No HSRTR receiving rATG+RTX induction therapy experienced ACR or AHR (p=0.0004). In contrast, ACR occurred in 35% and AMR in 25% of HSRTR treated with rATG alone. dnDSA were not detected in the rATG+RTX group whereas dnDSA were detected in 35% of HSRTR treated with rATG alone (p=0.02). Thus, the combination of rATG and rituximab appears to provide effective and safe induction therapy for highly sensitized renal transplant recipients and should be considered for this high risk population.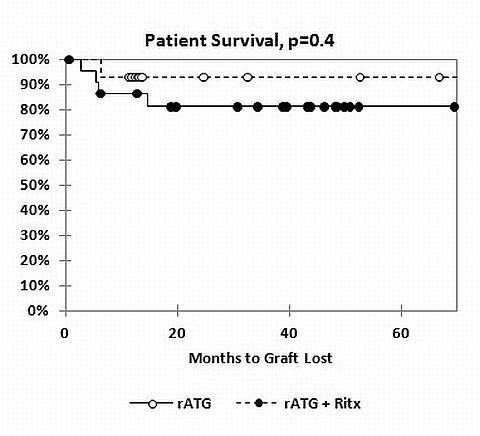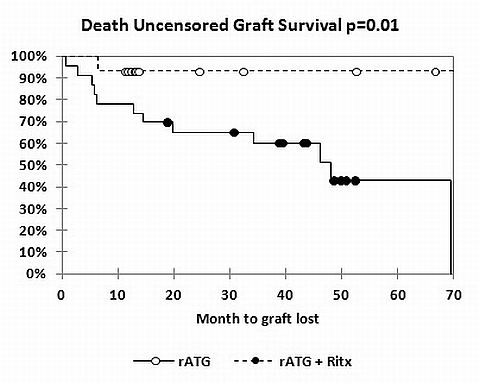 To cite this abstract in AMA style:
Laftavi M, Patel S, Kohli R, Zachariah M, Feng L, Said M, Dayton M, Pankewycz O. Combined Induction Therapy with Rabbit Antithymocyte Globulin (rATG) and Rituximab (RTX) in Highly Sensitized Kidney Recipients: Long-Term Outcomes [abstract].
Am J Transplant.
2013; 13 (suppl 5). https://atcmeetingabstracts.com/abstract/combined-induction-therapy-with-rabbit-antithymocyte-globulin-ratg-and-rituximab-rtx-in-highly-sensitized-kidney-recipients-long-term-outcomes/. Accessed December 3, 2023.
« Back to 2013 American Transplant Congress