Clostridium difficile Infection in Lung Transplant Recipients during the Modern Era of PCR Testing
NewYork-Presbyterian Hospital, New York, NY
Meeting: 2013 American Transplant Congress
Abstract number: B897
Background: Solid organ transplant (SOT) recipients are at risk for Clostridium difficile infections (CDI) which occurs in up to 31% of lung transplant (LT) patients. Fulminant colitis develops in up to 13% of SOT patients which is associated with 80% mortality.
Methods: Single-center, retrospective review of adults receiving a LT from Jan 2010 to Aug 2012. The primary objective was to determine the incidence of CDI in LT recipients. Secondary objectives: determine the incidence of recurrence, defined as the development of CDI at least days 10 days after completion of therapy, CDI in LT patients with a history of CDI prior to transplant who received CDI prophylaxis, acute rejection (AR), bronchiolitis obliterans syndrome, and graft and patient survival. Diagnosis of CDI was determined by polymerase chain reaction positivity.
Results: Of the 153 LT recipients, 24 (15.7%) had at least one episode of CDI after LT with a median time to first CDI of 116 days (3-751). A total of 33 CDI episodes occurred; 21% of episodes were preceded by AR therapy and 67% had prior antibiotic exposure within the previous 6 weeks. The median duration antibiotic treatment prior to CDI was 10 days (2-82) and median time to CDI from start of antibiotics was 20 days (1-93). Recurrence accounted for 18% of CDI episodes with a median time to recurrence of 125.5 days (42-338). Patients with a history of CDI who required post-LT re-admissions for antibiotic or AR therapy received CDI prophylaxis 87% (27/31) of the time. Of those, 70% did not develop CDI.
Conclusion: The incidence of CDI post-LT was lower in our patient cohort compared to previous studies. Due to the increased risk for developing CDI post-LT and the associated morbidity and mortality, prophylaxis in higher risk groups may be warranted.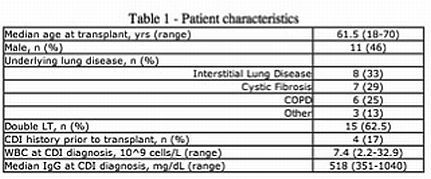 To cite this abstract in AMA style:
Lee J, Tsapepas D, McDermott J, Martin S, Anamisis A, Fester K, Powell J, Scheffert J. Clostridium difficile Infection in Lung Transplant Recipients during the Modern Era of PCR Testing [abstract].
Am J Transplant.
2013; 13 (suppl 5). https://atcmeetingabstracts.com/abstract/clostridium-difficile-infection-in-lung-transplant-recipients-during-the-modern-era-of-pcr-testing/. Accessed December 1, 2023.
« Back to 2013 American Transplant Congress