Clinical and Pathological Features of Lobar Nephronia in Renal Allograft
Y. Wang1, Z. Yan1, Y. Liu1, Y. Zhou1, Y. He1, W. Zeng1, R. Xia1, W. Deng1, J. Xu1, C. Wu2, Y. Miao1
1Department of Organ Transplantation, Nanfang Hospital, Southern Medical University, Guangzhou, China, 2Department of Urology and Pathology, Massachusetts General Hospital, Harvard Medical School, Boston, MA
Meeting: 2021 American Transplant Congress
Abstract number: 802
Keywords: Infection, Kidney transplantation, Nephron mass
Topic: Clinical Science » Infectious Disease » Kidney Infectious Non-Polyoma & Non-Viral Hepatitis
*Purpose: Lobar nephronia (acute focal nephritis) is a rare form of nephritis which can be presented as a renal mass and misdiagnosed as renal cancer, resulting in nephrectomy. Several single case reports of this disease in renal allograft have been published. The aim of this study is to characterize the clinicopathological features of lobar nephronia in renal allograft.
*Methods: Seven recipients were diagnosed with lobar nephronia in renal allografts in our hospital. The disease presentation, including clinical manifestations, imaging studies, pathological and lab data, are summarized and analyzed.
*Results: The disease presentation can be divided into three phases (Table 1). Phase I: Early Urinary tract infection (UTI). Mild urinating discomfort or white blood cells in urine are found. Phase II: Acute pyogenic infection. Typical symptoms of acute pyelonephritis including hyperpyrexia, chills, discomfort in the allograft area and significant infectious index. Regional renal parenchyma is extensively involved by the inflammatory process, leading to a mass formation. Imaging investigations indicate renal enlargement with exudation. PET-CT displays consolidation and hypermetabolic foci which can be easily misdiagnosed as malignancy. Biopsy can be performed to establish the diagnosis and exclude malignancy. Phase III: Chronic scarring after infection. Clinical symptoms ameliorate promptly after administration of antibiotics; however the renal lesions will not disappear simultaneously. Inflammation will reduce and result in fibrosis and scar. Eventually PET-CT will not detect focal lesion. (Figure 1)
*Conclusions: Sufficient antibiotics and regular follow-up are of great importance for recipients with UTI after transplantation. Besides, it's crucial to distinguish lobar nephronia from malignancy and post-transplant lymphoproliferative disorders.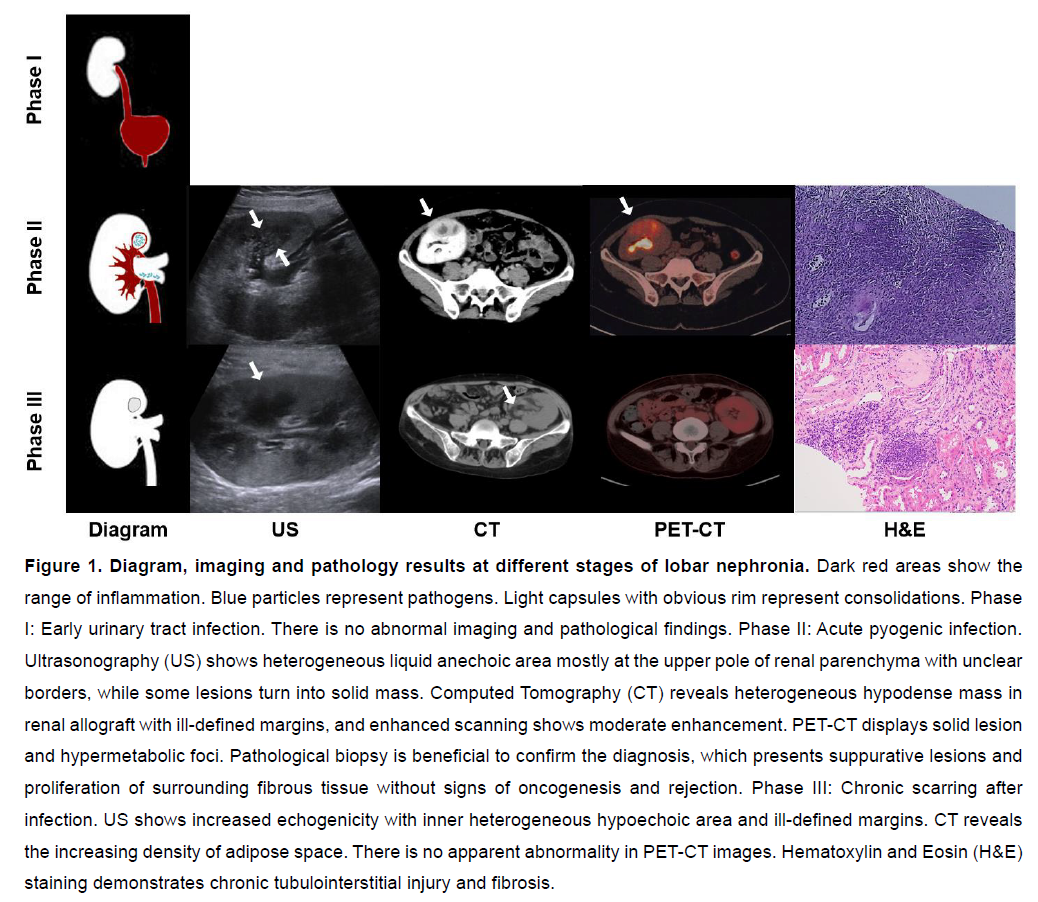 To cite this abstract in AMA style:
Wang Y, Yan Z, Liu Y, Zhou Y, He Y, Zeng W, Xia R, Deng W, Xu J, Wu C, Miao Y. Clinical and Pathological Features of Lobar Nephronia in Renal Allograft [abstract].
Am J Transplant.
2021; 21 (suppl 3). https://atcmeetingabstracts.com/abstract/clinical-and-pathological-features-of-lobar-nephronia-in-renal-allograft/. Accessed March 26, 2023.
« Back to 2021 American Transplant Congress