Session Information
Session Name: Acute Rejection
Session Type: Poster Abstract
Session Date & Time: None. Available on demand.
*Purpose: Second signal of activation play an important role in activation of T lymphocytes. Their control by checkpoint inhibitor is efficient in auto-immune disease and allogenic transplantation. Belatacept, a CTLA4-Ig, has been developed to control activated T cells in renal transplantation as a maintenance therapy (Larsen et al. 2006). Belatacept has been demonstrated to improve the renal function, to increase graft and patient survival as compared to Calcineurin Inhibitor (CNI) (Vincenti et al. 2010). Belatacept is associated with reduced cardiovascular risk and occurrence of anti-donor antibodies, but also with a higher risk of acute cellular rejection (ACR) than observed with CNI (Rostaing et al. 2013). A previous study linked Acute Cellular Rejection (ACR) of belatacept-treated patients with the rate of CD4 CD57+PD1- T cells before transplantation. In vitro we showed that expansion of these cells is belatacept-resistant (Espinosa et al. 2016).
*Methods: In this study we assessed activation mechanism of CD4 CD57+PD1- T cells in order to control their proliferation. We performed a transcriptomic analysis of CD4 CD57+PD1- cells from 6 donors after Mixed Leucocyte Reaction (MLR) with +/- belatacept. Then we assessed in MLR the activation pathway found by a computational method of analysis.
*Results: A Principal Component Analysis demonstrated different transcriptional profiles between cells of interest and control populations (Fig1A). Belatacept have a weaker effect on pro-proliferative pathways of CD4 CD57+PD1- cells than on CD4 CD57-. A Gene Set Enrichment Analysis shows that Interferon (IFN) α response gene set is positively regulated in treated CD4CD57+PD1- cells (Fig1B).
This pathway is associated with an increase of IFN Regulatory Factor (IRF) 7 transcripts which control the pro-inflammatory cytokine IL6. In vitro we confirmed IRF7 over-expression in CD4 CD57+PD1- cells. Then we showed inhibition of CD4 CD57+PD1- cells proliferation by blocking type I IFN or IL-6 receptors with belatacept (Fig2).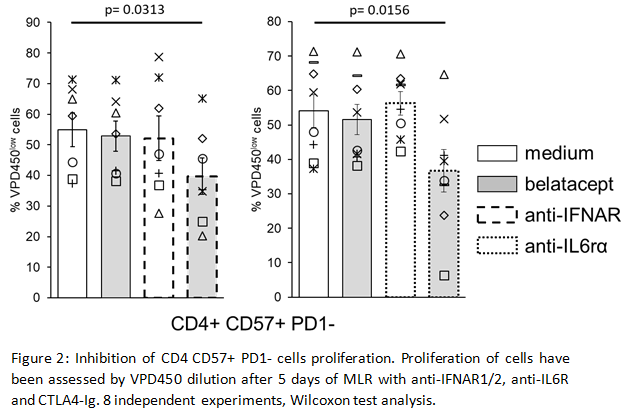 *Conclusions: We demonstrated that activation of CD4 CD57+PD1- belatacept-resistant T cells is dependent of the IFNα-IRF7 pathway. In vitro inhibition of these cells by antiIFNAR or antiIL6rα blocking antibodies highlight new therapeutic options to prevent belatacept associated ACR.
To cite this abstract in AMA style:
Herr F, Bargiel K, Vernochet A, Durrbach A. Belatacept-Resistant T Cells are Activated by IFNα-IRF7 Pathway [abstract].
Am J Transplant.
2021; 21 (suppl 3). https://atcmeetingabstracts.com/abstract/belatacept-resistant-t-cells-are-activated-by-ifn%ce%b1-irf7-pathway/. Accessed August 11, 2022.
« Back to 2021 American Transplant Congress