Attitudes of Obese Kidney Transplant Candidates Towards Bariatric Surgery
C. LaVerne, V. Thompson, G. Aguiluz, P. DiCocco, J. Almario Alvarez, M. Spaggiari, I. Tang, I. Tzvetanov, E. Benedetti
Surgery, University of Illinois Hospital & Health Sciences System, Chicago, IL
Meeting: 2021 American Transplant Congress
Abstract number: 876
Keywords: Kidney transplantation, N/A, Obesity, Weight
Topic: Clinical Science » Kidney » Kidney Psychosocial
Session Information
Session Name: Kidney Psychosocial
Session Type: Poster Abstract
Session Date & Time: None. Available on demand.
*Purpose: Obesity is an epidemic in the US and increasingly prevalent in kidney transplant candidates. Surgical weight-loss interventions are effective and reduce transplant-related complications. They also have a significant positive impact on the lifestyle and wellbeing of these patients. Special attention should be given to analyze what barriers or deterrents impede these patients from having bariatric surgery and design initiatives to overcome them.
*Methods: A retrospective review was conducted in patients registered for kidney transplant evaluation from July 2017- June 2018. A chart review of the electronic medical record was conducted to collect demographics of the patients with criteria (BMI > 35) for laparoscopic sleeve gastrectomy (LSG) and their responses to the offer of a bariatric referral with posterior follow up to identify patients that ultimately receive the procedure.
*Results: A total of 422 patients were registered for kidney transplant and had nutrition evaluation completed, 119 (28.2%) met the eligibility requirements for bariatrics. Of those that were eligible, 73 (61.34%) accepted bariatric referral of which 32 (43.8%) initiated bariatric workup. Ultimately, 12 (10.1%) completed bariatric workup and underwent bariatric surgery, 1 patient had surgery in an affiliated hospital, details characterized in table and graphic.
*Conclusions: Our obese candidates for kidney transplant have low bariatric surgery rates despite offering evaluations for LSG to all of them. Diet and exercise remain as their primary choice, which unfortunately has low success. Initiatives to increase acceptance of bariatric referral such as education and motivation should be considered for further investigation as a tool for success.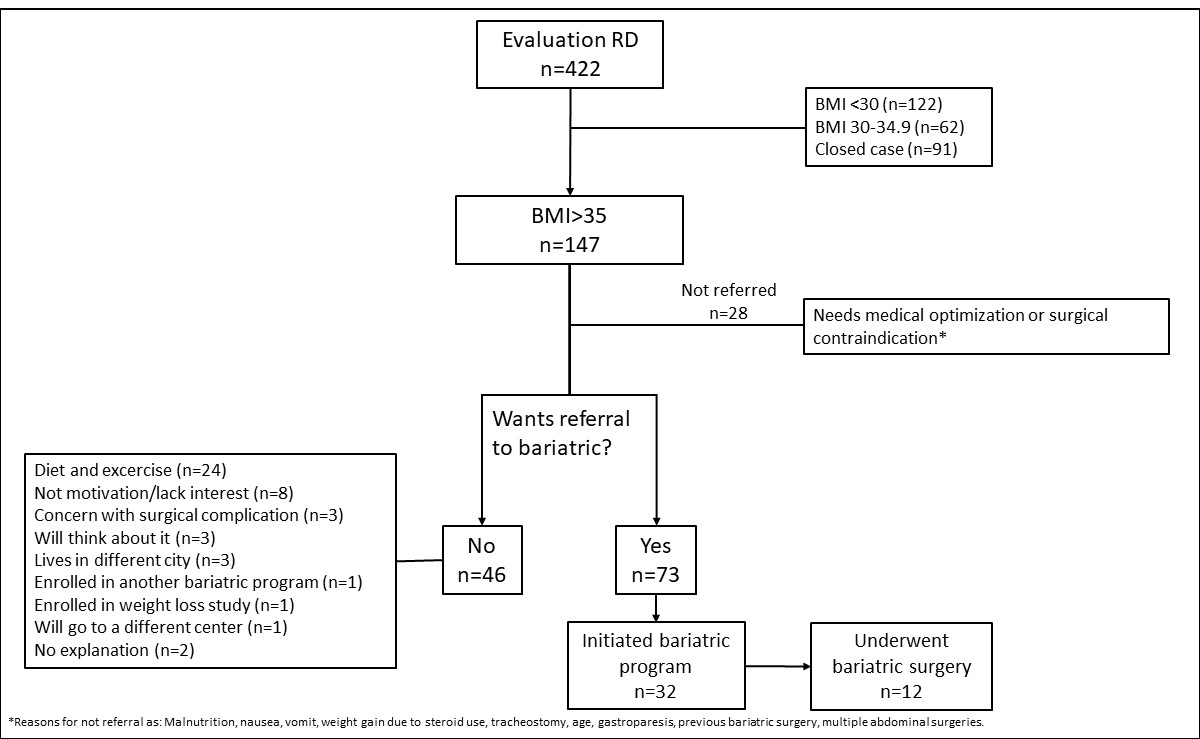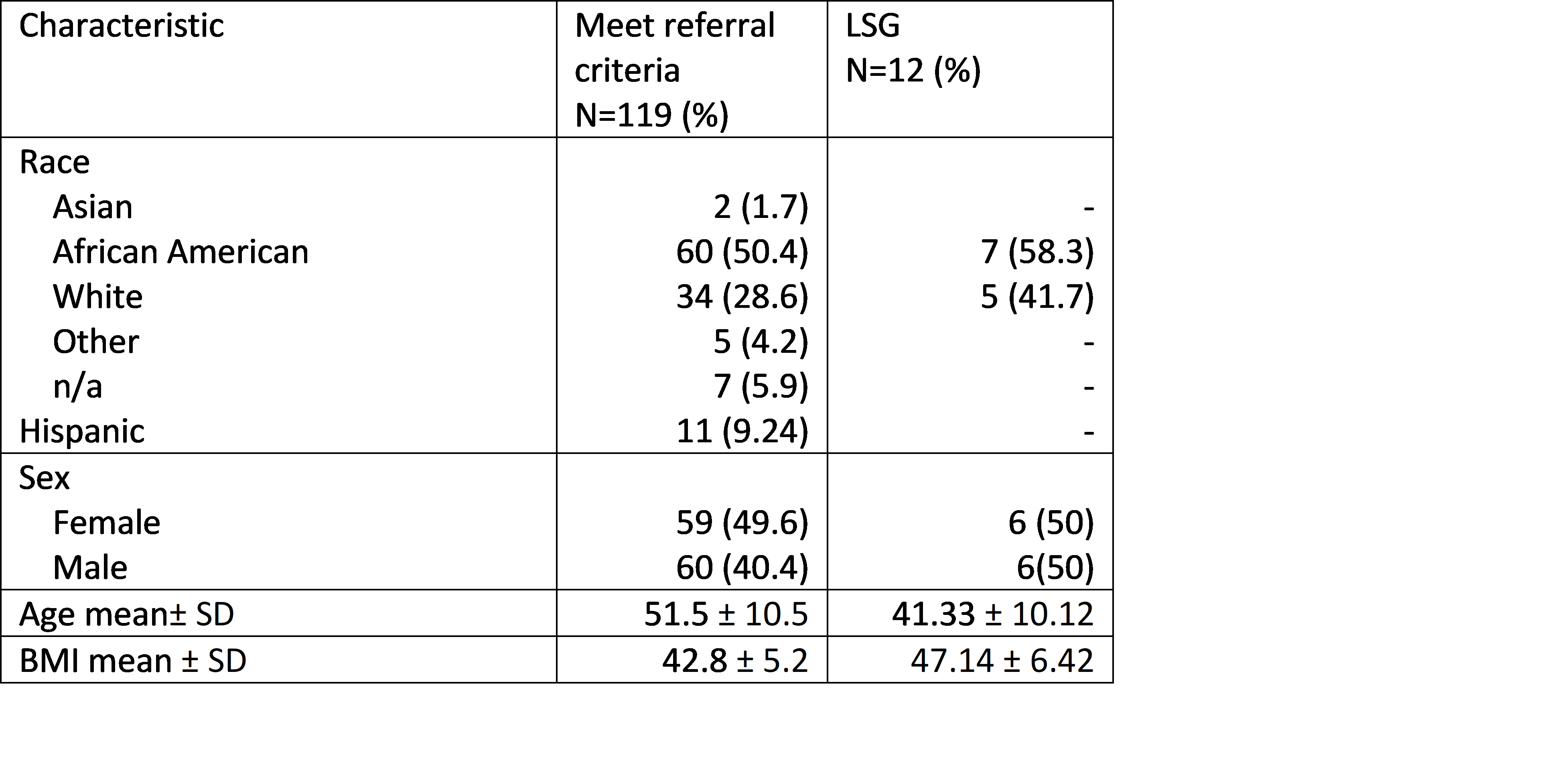 To cite this abstract in AMA style:
LaVerne C, Thompson V, Aguiluz G, DiCocco P, Alvarez JAlmario, Spaggiari M, Tang I, Tzvetanov I, Benedetti E. Attitudes of Obese Kidney Transplant Candidates Towards Bariatric Surgery [abstract].
Am J Transplant.
2021; 21 (suppl 3). https://atcmeetingabstracts.com/abstract/attitudes-of-obese-kidney-transplant-candidates-towards-bariatric-surgery/. Accessed October 4, 2022.
« Back to 2021 American Transplant Congress