A Video Intervention to Increase Organ Donor Registration (ODR) at the Department of Motorized Vehicles (DMV)
1Surgery, Medical University of South Carolina`, Charleston, SC, 2University of Alabama at Birmingham, Birmingham, AL, 3Surgery, University of Alabama at Birmingham, Birmingham, AL, 4University of Maryland, College Park, MD, 5Temple University, Philadelphia, PA, 6Medical University of South Carolina`, Charleston, SC, 7University of Tennessee Health Sciences Center, Memphis, TN
Meeting: 2019 American Transplant Congress
Abstract number: D169
Keywords: African-American, Cadaveric organs, Donation, Public policy
Session Information
Session Time: 6:00pm-7:00pm
Presentation Time: 6:00pm-7:00pm
Location: Hall C & D
*Purpose: To implement a sustainable, low cost DMV-based intervention that increased ODR of DMV patrons, and secondarily, increase ODR in African Americans (AAs).
*Methods: Results from previous focus group studies with AA DMV patrons were used to generate a 10 min video that utilized a health behavior story-telling approach by registered organ donors, deceased donor families, and transplant recipients. The video was presented on TVs placed in 6 DMVs in a US city via an interrupted time series design (repeating on 2 months, off 2 months).
*Results: 162,387 patrons visited the 6 DMVs during the 12-month study. ODRs were consistently and significantly increased in each DMV while the video was on [mean increase +2.3%; p<0.0001]. Females, Caucasian race, younger age and the video intervention were significantly associated with ODR (Table 1). There was no significant difference in ODR while the video was on vs. off between Caucasians and AAs. Exit interviews with AA DMV patrons exposed to the intervention demonstrated only 15% could accurately identify the key message in the video.
*Conclusions: An educational video promoting ODR resulted in increased ODR at the DMV. The intervention was not more effective in AAs than Caucasians. Future efforts should focus upon increasing DMV patron "consumption" of the educational video.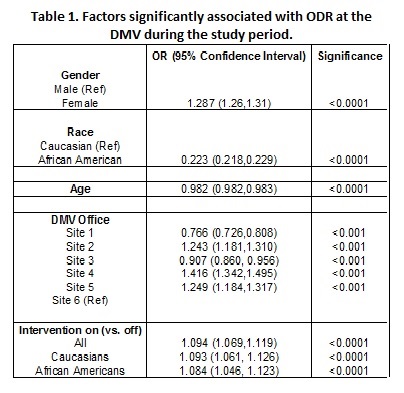 To cite this abstract in AMA style:
DuBay DA, Morinelli T, Redden D, Ivankova N, Herbey I, Holt CL, Siminoff L, Fouad M, Su Z, Martin M. A Video Intervention to Increase Organ Donor Registration (ODR) at the Department of Motorized Vehicles (DMV) [abstract].
Am J Transplant.
2019; 19 (suppl 3). https://atcmeetingabstracts.com/abstract/a-video-intervention-to-increase-organ-donor-registration-odr-at-the-department-of-motorized-vehicles-dmv/. Accessed January 26, 2021.
« Back to 2019 American Transplant Congress