Mouse Models That Fully Reproduce Human Acute and Chronic Antibody-Mediated Kidney Transplant Rejection
University of Alberta, Edmonton, Canada
Meeting: 2013 American Transplant Congress
Abstract number: D1471
Antibody-mediated rejection (ABMR) is a major cause of late kidney transplant failure. Until now, lack of relevant small animal models of pure antibody-mediated rejection has hampered progress in understanding the mechanisms of this detrimental disease. We established a major histocompatibility complex-mismatched kidney transplantation model by transplanting kidneys from male CBA/J mice (H-2k: Kk, Dk, I-Ak) into male B6.Rag1 knock-out mice (H-2b: Kb, Db, I-Ab) which lack T-cells and B-cells. To induce rejection, we first adoptively transferred monoclonal donor specific IgG antibodies into B6.Rag1 knock-out kidney allograft recipient mice via i.p. injections. Controls included kidney allografts in recipients which were treated with PBS or nonimmune IgG. We found that low titer monoclonal antibodies activated the proximal part of the complement system resulting in diffuse C4d staining along allograft capillaries, but did not activate distal complement products C5a and C5b-9, and therefore, did not produce rejection in kidney allografts. In contrast, high titer monoclonal antibodies caused acute microvascular endothelial and tubular injury by increasing serum C5a and C5b-9 levels, but induced weak inflammation in kidney allografts. All control allografts were negative for C4d staining and rejection. In addition, we generated polyclonal donor specific antibodies by immunizing wild-type B6 mice with cells bearing donor major histocompatibility complex antigens. By adoptive transfer of polyclonal donor specific IgG antibodies at different doses and time periods, we established mouse models that reproduce human ABMR. Mouse allografts with acute ABMR showed rapid deterioration of renal function and increased inflammation, endothelial injury, and C4d staining compared to controls. Whereas, mouse allografts with chronic ABMR showed a slow deterioration of renal function and increased fibrosis/atrophy, inflammation, C4d staining, and transplant glomerulopathy compared to control allografts.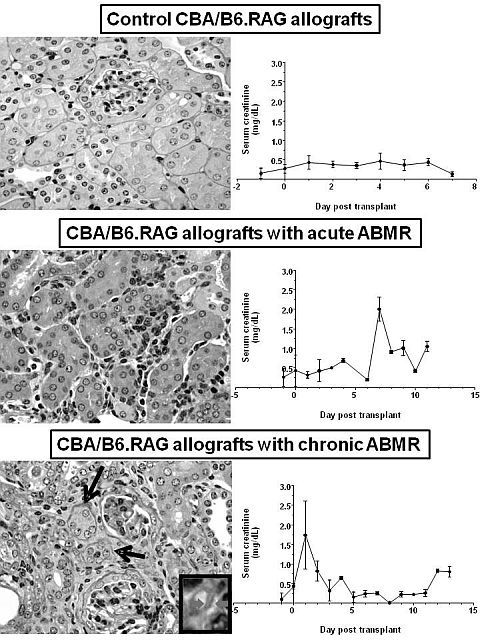 Our mouse model systems will serve as a great opportunity to understand effector cellular and molecular mechanisms of ABMR in clinical solid organ transplants.
To cite this abstract in AMA style:
Chow A, Pearcey J, Ho T, Raghuveer A, Kuttikat P, Zhu L, Sis B. Mouse Models That Fully Reproduce Human Acute and Chronic Antibody-Mediated Kidney Transplant Rejection [abstract].
Am J Transplant.
2013; 13 (suppl 5). https://atcmeetingabstracts.com/abstract/mouse-models-that-fully-reproduce-human-acute-and-chronic-antibody-mediated-kidney-transplant-rejection/. Accessed September 18, 2021.
« Back to 2013 American Transplant Congress