Monocyte FcγRIIa Allotype Influences Recruitment to Endothelial Cells Triggered by HLA I Antibodies
Pathology and Laboratory Medicine, UCLA, Los Angeles, CA
Meeting: 2013 American Transplant Congress
Abstract number: D1773
Background: HLA I antibody (Ab) activation of endothelial cells (EC) promotes monocyte recruitment through P-selectin and FcΓRI and FcΓRIIa. Human FcΓRIIa is dimorphic. R131 allele has a lower affinity for all IgG subclasses compared with H131. We investigated the effect of FcΓRIIa allotype on HLA I Ab-induced adherence of monocytes to EC using monocytic cell lines U937, THP-1 and Mono Mac 6 (MM6).
Results: FcΓRIIa allotype was determined by flow cytometric method. Cells carrying H131 allele, MM6 (H/H) and THP-1 (R/H), had significant capacity bind to hIgG2 in an immobilized IgG assay and by flow cytometry, while U937 (R/R) did not. MM6 did not bind immobilized mIgG1, while THP-1 efficiently bound to mIgG1.
We determined which FcΓRs were involved in recruitment triggered by HLA I mIgG2a (a surrogate for human IgG1/3). HLA I Ab treatment of EC triggered dramatic adherence of MM6 and THP-1. Inhibition of FcRI significantly blocked binding of both MM6 and THP-1 (∼80% inhibition). Blockade of FcΓRIIa significantly inhibited (∼60%) MM6 adherence, but had little effect on binding of THP-1 (∼20% inhibition). Our results point to a functional disparity between FcΓRIIa alleles.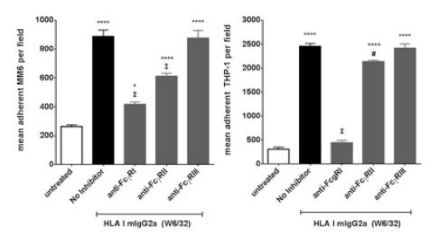 We compared recruitment of peripheral blood monocytes (PB-mo) from individuals homozygous for H131 or R131. We used HLA I mIgG2a and mIgG1. PB-mo from an H/H donor were more significantly recruited to HLA I mIgG2a compared with mIgG1. In contrast, R/R PB-mo responded equally to both subclasses. The degree of binding of R/R PB-mo was remarkably reduced compared with H/H PB-mo.
Discussion: Transplant patients carrying FcΓRIIa-H131 may have greater infiltration of FcΓR-bearing cells during antibody-mediated rejection, which is detrimental to graft survival. Moreover, HLA IgG2, though not complement fixing, are likely to be clinically significant in H/H patients, as FcΓRIIa can promote enhanced recruitment.
To cite this abstract in AMA style:
Valenzuela N, Reed E. Monocyte FcγRIIa Allotype Influences Recruitment to Endothelial Cells Triggered by HLA I Antibodies [abstract].
Am J Transplant.
2013; 13 (suppl 5). https://atcmeetingabstracts.com/abstract/monocyte-fcriia-allotype-influences-recruitment-to-endothelial-cells-triggered-by-hla-i-antibodies/. Accessed September 18, 2021.
« Back to 2013 American Transplant Congress