Session Information
Session Time: 4:30pm-5:30pm
Presentation Time: 4:35pm-4:40pm
Location: Virtual
*Purpose: Uterus transplantation (UT) is an emerging treatment in the field of total uterine infertility. There is no consensus on the optimal immunosuppression regimen in UT recipients.
*Methods: Of the 20 UT recipients at this center, 6 were excluded due to graft removal prior to 30 days. Ectocervial biopsies (ECB) were collected at pre-determined timepoints to assess for rejection. ECB were scored as: negative, borderline, grade 1, grade 2, or grade 3 for ACR. Rejection was defined as grade 2 or higher. First line treatment for rejection was pulse corticosteroids over 3 days with a total methylprednisolone dose of 2.5g IV.
*Results: Duration of immunosuppression at the time of last follow up is 1.5 years (median, IQR 1.2 – 2.1). Nine of the 14 included UT recipients have undergone graft explant post-delivery. Demographics, immunosuppression, and other outcomes are detailed in Table 1. All received induction with rabbit antithymocyte globulin (rATG) 4.5 mg/kg based on ideal body weight (IBW), with the exception of one patient induced with rATG 3 mg/kg who later developed rejection. LCPT-tacrolimus (Envarsus XR) was used in 93% of patients. Four patients discharged on mycophenolate and were converted to azathioprine (AZA, dosed at 1mg/kg daily) prior to pregnancy. One patient received a combination of tacrolimus and everolimus, which was switched to AZA 10 months post-UT. All rejections were subclinical and discovered on protocol ECB. All rejections responded to pulse corticosteroids except one, which required rATG. Only one rejection occurred during pregnancy. No rejections were noted to cause miscarriage or graft failure. Donor specific antibody (DSA) incidence was low and only seen in the rejection group.
*Conclusions: In UT recipients, an immunosuppression regimen of rATG 4.5 mg/kg (IBW) paired with dual maintenance therapy TAC (troughs of approx. 5-8 ng/mL) and AZA 1 mg/kg resulted in excellent live birth rates. All rejections were asymptomatic and did not affect patient or graft survival, or live birth rate. Despite pregnancy being an immunologically sensitizing event, DSA occurrence was infrequent. This study represents a description of IS and rejection treatment of the largest cohort of UT recipients.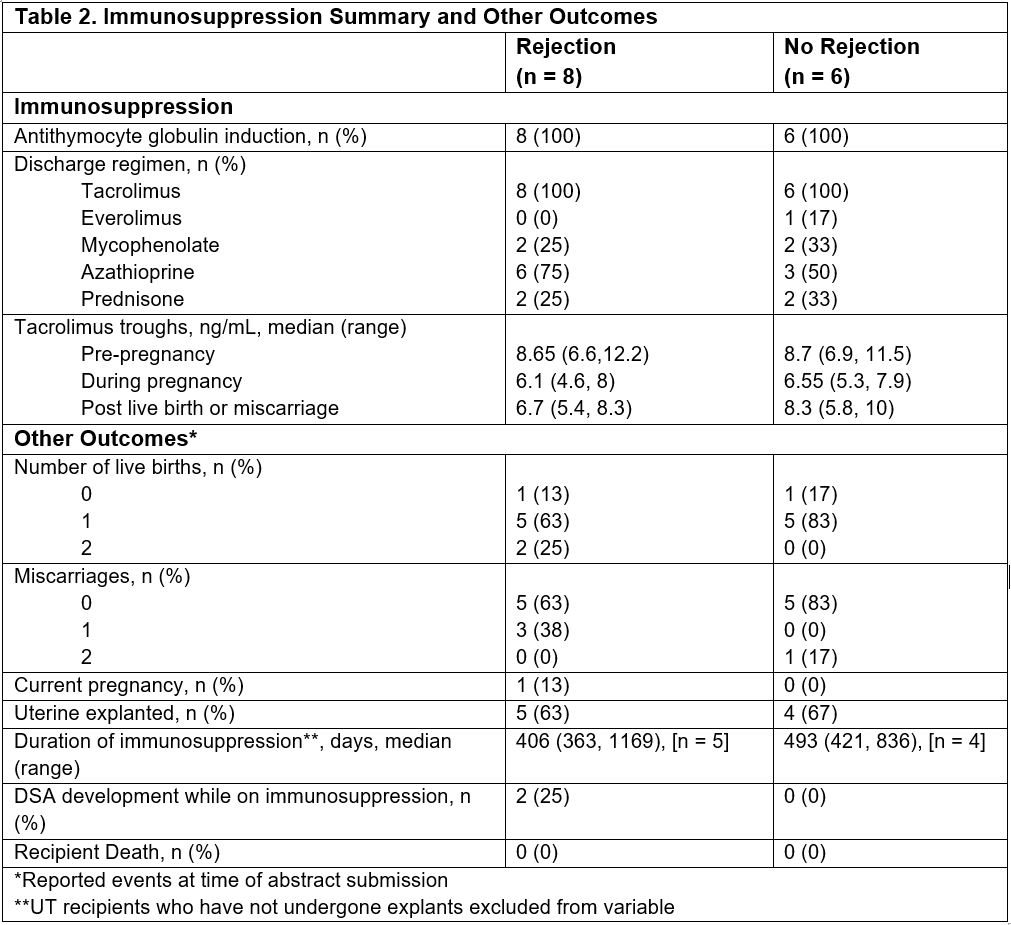 To cite this abstract in AMA style:
Wilson N, Patel R, Johannesson L, Testa G, Sam T. Immunosuppression in Uterine Transplant Recipients: Experience from the Largest Uterine Transplant Program [abstract].
Am J Transplant.
2021; 21 (suppl 3). https://atcmeetingabstracts.com/abstract/immunosuppression-in-uterine-transplant-recipients-experience-from-the-largest-uterine-transplant-program/. Accessed July 24, 2021.
« Back to 2021 American Transplant Congress