Session Information
Session Time: 5:30pm-6:30pm
Presentation Time: 5:30pm-6:30pm
Location: Exhibit Hall E
This project attempted to accelerate repair of ischemically damaged human kidney allografts using Exsanguinous Metabolic Support (EMS) technology that is warm (32C) and acellular. While EMS supports cellular repair, there is a period of delayed graft function during tubule regeneration. Tissue engineering the damaged renal cells entails using mesenchymal stem cells (MPCs) secreting paracrine factors. Our hypothesis is: maintaining MPCs in the renal tissue during the perfusion, the proximity of secreted factors enhances the opportunity for repair more than systemic administration.
Methods – Using a paired human kidney model the potential of accelerating the reparative processes was evaluated following ischemic insult (30 min). Labeled MPCs were tested by a dose escalation study where one kidney was EMS perfused without stem cells while the paired kidney was perfused with the MPCs for 24 hours of perfusion. Evaluation of the repair included locating the MPCs within the kidney, cytokine synthesis and histologic evaluations.
Results-The labeled human MPCs were detected in the renal parenchyma; particularly in tubule epithelium. More than 90% of the labeled MPCs migrated into the kidney. (Fig 1). The MPCs synthesized anti-inflammatory cytokines: GCSF, GRO, IL-10 and IL-6. GCSF is a stimulator of stem cell activation. GRO is a chemokine that leads to monocyte arrest. IL-10 mediates anti-inflammatory responses and IL-6 has demonstrated both pro- and anti-inflammatory functions. In addition to an anti-inflammatory state mediated by MPCs treatment, renal regeneration was seen (24 hours). H&E staining of kidneys demonstrates the normalization that occurs (Fig 2).
Conclusions- Results show the ability to deliver MPCs to the renal parenchyma with homing to the site of damaged epithelium. The ability to regenerate renal function ex vivo following ischemia would revolutionize transplantation.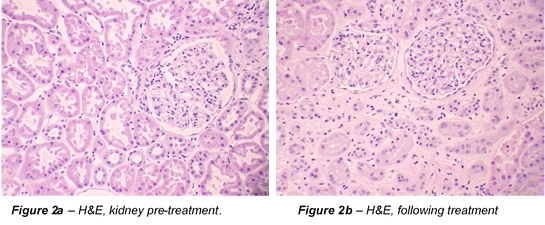 To cite this abstract in AMA style:
Brasile L, Henry N, Meyer A, Stubenitsky B. Ex Vivo Stem Cell-Mediated Regeneration of Ischemically Damaged Renal Allografts [abstract].
Am J Transplant.
2015; 15 (suppl 3). https://atcmeetingabstracts.com/abstract/ex-vivo-stem-cell-mediated-regeneration-of-ischemically-damaged-renal-allografts/. Accessed October 18, 2021.
« Back to 2015 American Transplant Congress