Session Information
Session Time: 3:15pm-4:45pm
Presentation Time: 4:15pm-4:27pm
Location: Virtual
*Purpose: Effect of the routine use of Patient Health Questionnaire PHQ-2 Screening in ambulatory transplant clinic to identify patients at risk for self-harm
*Methods: Following a series of unexpected suicides amongst patients followed in our specialized multi-organ transplant clinic, an A3 process was undertaken and a program for routine screening of patients who came to our clinic was put in place. This process utilizes the Patient Health Questionnaire PHQ-2 which is administered by the clinic staff for all transplant recipients. A score on the PHQ-2 >= 3 triggers completion of the PHQ-9. A score of >=10 or endorsement of item #9 (thoughts you would be better off dead, or of hurting yourself) on the PHQ-9 triggers a referral to Transplant Social Work and the Attending Physician. Patients then receive further clinical assessment of mood, suicide risk assessment and ongoing mental health intervention.
*Results: Between November 2016 and June of 2018, 8,813 patient contacts were screened using the PHQ-2. Approximately 10% of all patient contacts met our established threshold for symptoms consistent with moderate depression (PHQ-9 >=10) with liver transplant recipients having the highest percentage of positive depressive symptoms (Liver 13.2%, Kidney 8.03%, and Lung 6.69%). Of those patients, kidney transplant recipients evidenced a higher rate of suicidal ideation or endorsement of item 9 on the PHQ-9 (Kidney 19.29%, Liver 16.55%, and Lung 11.54%).
*Conclusions: The Joint Commission Sentinel Alert from 2016 recommends that all transplant centers have a formal process for screening recipients for depression and the risk for self-harm. We found the PHQ-2 to be a practical and feasible way to screen a relatively large amount of patients to identify a smaller cohort that could go on to receive more detailed assessment by the Transplant Social Work team. We found that major depression to be common and that kidney transplant recipients to have the highest incidence of suicidal ideation. We suggest that heightened awareness of these issues among staff and an active screening program are important components of transplant care.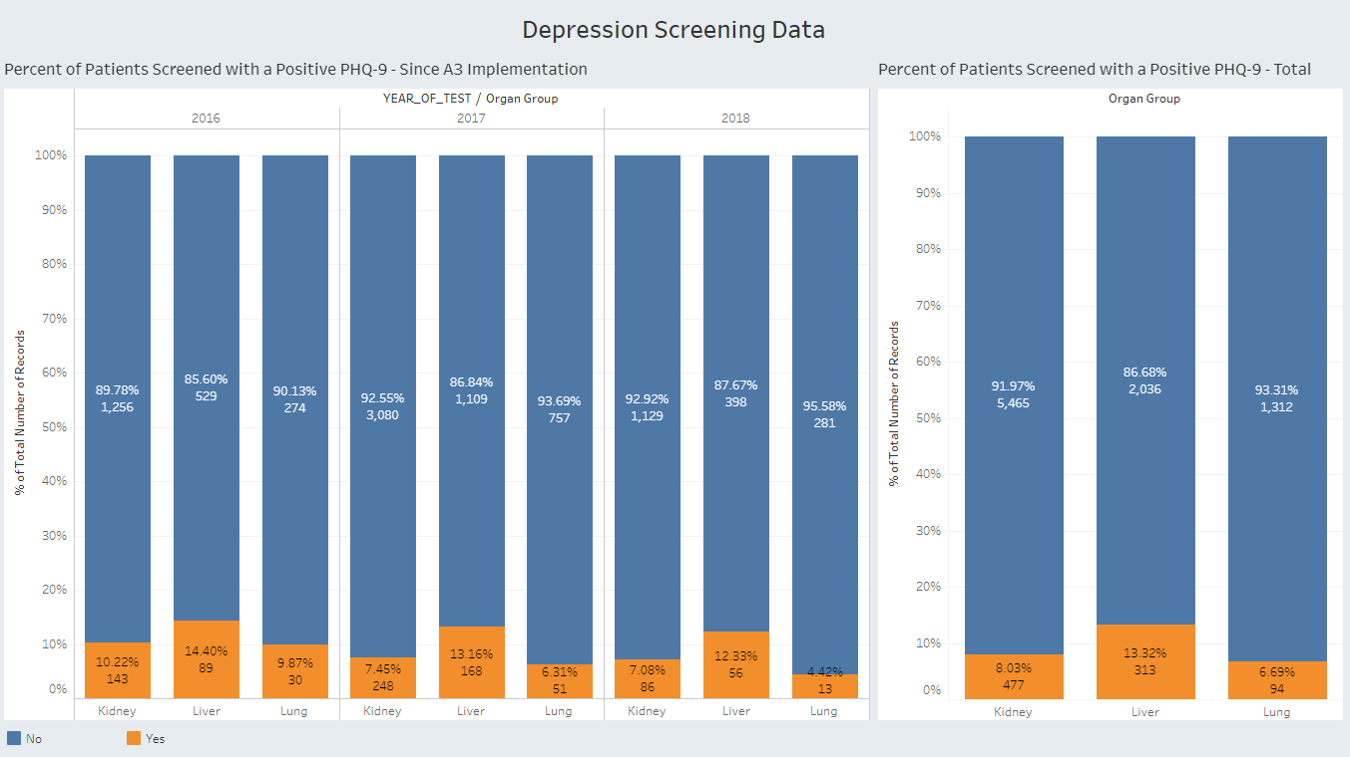 To cite this abstract in AMA style:
Potts WM, Anthony A, Brayman K, Doyle A. Depression Screening Protocol in Post Transplant Clinic. Implementing the A3 Scientific Method for Improving Patient Safety [abstract].
Am J Transplant.
2020; 20 (suppl 3). https://atcmeetingabstracts.com/abstract/depression-screening-protocol-in-post-transplant-clinic-implementing-the-a3-scientific-method-for-improving-patient-safety/. Accessed December 4, 2020.
« Back to 2020 American Transplant Congress